South Georgia's Sweet Grass Dairy Announces Stone Brewing Take Over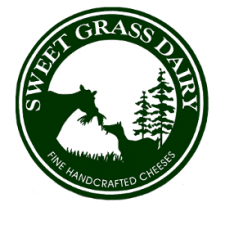 Thomasville, GA – Sweet Grass Dairy, one of the nation's premier family-owned handcrafted cheesemakers and Stone Brewing Co., one the world's most recognizable and best craft breweries, are excited to announce they've teamed up for a weekend of special events slated to take place on March 1-2 at the Sweet Grass Dairy Cheese Shop in historic Downtown Thomasville.
The two-day festivities begin on Friday March 1st with a special 'First Friday' event spotlighting Stone's most beloved craft brews. The Sweet Grass Dairy Cheese Shop will feature pint specials, one-off menu items, and bottle specials. Then, on Saturday March 2nd, Stone continues its take over with a 12pm to 7pm extravaganza featuring select beers on tap not frequently seen in South Georgia, unique bottles available for purchase, and a special buy-a-bomber get a free pint glass promotion. The Sweet Grass Dairy Cheese Shop will also have a Stone Brewing-centric menu featuring specific items tailored to highlight, contrast, and hone in on the brewery's aggressive style. The menu will include the debut of a newly created Sweet Grass Dairy cheese that has historical ties to Stone.
Black Swan, Sweet Grass Dairy's only beer-washed cheese, was originally washed in Arrogant Bastard Ale as a gift for one of Owners Jeremy and Jessica Little's' best friends' weddings. Since its inception, Black Swan has developed a large following and recently the Littles began experimenting with different beer washes. This time, they promise a new twist on a fan favorite.
"When we found out that Stone was on board to come to South Georgia, we knew we wanted to create a new take on the original cheese," said the Littles. "Stone does such a great job of taking simple ingredients, adding its touch, and creating an amazing beer. We wanted to honor that by doing the same with cheese. The result is truly special."
FOR IMMEDIATE RELEASE
About Sweet Grass Dairy
Based in Thomasville, Georgia Sweet Grass Dairy is a family-owned and operated farm that handcrafts fresh, soft-ripened and naturally aged cow cheeses that are unique and delicious. Sweet Grass Dairy is dedicated to creating old-world style cheeses that highlight the rich, high quality milk we use. Our milk comes from family-owned rotationally grazed cows that never receive growth hormones or unnecessary antibiotics. For more information please visit www.sweetgrassdairy.com or our Facebook page.
About Stone Brewing Company
Twice named "All-Time Top Brewery on Planet Earth" byBeerAdvocate magazine, Stone Brewing Co. was founded in 1996 by Greg Koch and Steve Wagner and is the 11thlargest craft brewer in the U.S. Headquartered in Escondido, CA, Stone owns and operates the farm-to-table restaurant Stone Brewing World Bistro & Gardens – Escondido, as well as Stone Catering, Stone Distributing, and Stone Farms. Other lofty ventures include construction of Stone Packaging Hall and a second restaurant with an on-site brewhouse, Stone Brewing World Bistro & Gardens – Liberty Station, both with an estimated completion of first quarter 2013, and Stone Hotel & Headquarters with an estimated completion of 2014. For more information, please visit stonebrewing.com or on social media sites: Twitter and Facebook.