Saint Arnold's – One Pot Showdown, Twittering, and New Distributors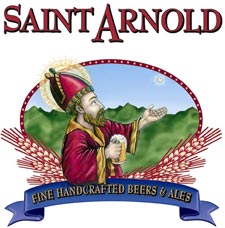 Dear Saint Arnold's Army:
Happy 2009!  First, for all the Winter Stout fans out there, we just bottled our last batch of Winter Stout for this season so get it quickly.  It probably will be gone by the end of next week if not sooner.  Spring Bock to follow.
COME SAMPLE AT THE SAINT ARNOLD ONE POT SHOWDOWN ON SUNDAY, JANUARY 25
30 cooking teams will be here at the brewery vying for the title of "Best One Pot Dish Made with Saint Arnold Beer" and the coveted One Pot trophy.  You get to come and try samples of each to see if you agree with the judges.  Houston's own Dragliners will be playing.  All of this for just $15, with $5 of the admission going to the Houston Food Bank.
The Food Bank will be here accepting additional donations of non-perishable food items.  Every attendee that makes a food donation will receive a raffle ticket for a drawing of several Saint Arnold merchandise items during the event.
This event sold out quickly last year.  Here are the details:
Event: 2nd Annual Saint Arnold One Pot Showdown
Date: Sunday, January 25
Time: 1 PM to 4 PM (Cookers only will be allowed here earlier)
Music: The Dragliners
Admission: $15 per person in advance (includes $5 that will go to Houston Food Bank).  Any tickets sold at the door will be $25.
Additional Non-Perishable Food Donations: Attendees to get raffle tickets if they donate items.
For reservations, call or email Ann (713-686-9494 or [email protected]).  As always, she will need either credit card, cash or check to make the reservation.
TWITTER WITH US AND FIND OUT ABOUT SPUR-OF-THE-MOMENT EVENTS
Get hip and twitter with Saint Arnold!  We will be hosting several events throughout the year using Twitter.  The events will include quickly organized pub crawls.  What is Twitter?  It's a social media/microblogging website which can also be set up to send texts to your cell phone.  Posts are limited to 140 characters.
How do you set it up?  Here are the steps:
1. Go to www.twitter.com to create a profile and to learn more about the site.
2. Click on the "Settings" tab and then click on the "Devices" tab. Make sure you have a cell phone number entered and that your device updates are clicked to "On".
3. Once you have created a profile go to www.twitter.com/SaintArnold and click the "Follow" button underneath our logo.  Then click the "Device updates" next to that and set to "on".
This will allow you to get text message alerts about pub crawls.
TABC CERTIFICATION COURSE THIS SUNDAY
Would you like to be part of our wonderful crew of volunteers that help out on our tours and at events?  First, you must be TABC certified.  This is a, well, boring 4 hour course on not serving underage or intoxicated people.  But the reward is getting to help out and have fun with us!  The next course is this Sunday, January 11 from 10 AM till 2 PM at the brewery.  And we cannot have beer during the course.  Sorry.  We may have a pint afterwards.  The cost of the course is $25 (it all goes to the instructor).  If interested, please call or email Ann (713-686-9494 or [email protected]).  And make sure to bring your driver's license.
THE GOURDS AT CACTUS THIS FRIDAY, JAN 9 AT 5:30 PM
Come by Cactus Music this Friday to hear the Gourds in-store performance.
Cactus is at 2110 Portsmouth.
SAINT ARNOLD IS CHANGING DISTRIBUTORS NEXT MONTH IN MUCH OF THE STATE
Glazer's, our distributor for the past 10 years, has decided to sell their beer distribution business in much of Texas.  Thus, we will have new distributors come February 1 in the greater Houston, Dallas/Fort Worth, San Antonio and Corpus Christi areas.  For most of Houston and San Antonio it will be Silver Eagle.  In Dallas/Fort Worth, it will be Ben E. Keith. There may be something of a learning curve at first since this is the first time Silver Eagle has distributed a beer that did not have any connection to a certain large brewery in St. Louis.  But we are excited as we believe that this will be a great opportunity for us to continue our growth.
TOUR POLICY CHANGE
Anyone under the age of 21 attending the tour must be accompanied by a parent.  We apologize for any inconvenience this creates for anyone.
Thanks again for your support!  And remember to recycle your six pack carriers with us!  Check out the competitors in our donegal growing contest too: http://www.saintarnold.com/fun/beard.html
Cheers!
The Brew Crew
Ann, Bobby, Brett, Brock, Chris, Daniel, Felix, Frank, James, John, Justin, Kathy, Kendra, Lennie, Michael, Nicholas, Nick, Pedro, Phil, Sam and Vince
—
Saint Arnold Brewing Company
2522 Fairway Park Drive
Houston, TX  77092
713-686-9494
http://www.saintarnold.com
Tours Every Saturday at 1:00 pm