Orange Show Fundraiser & Other News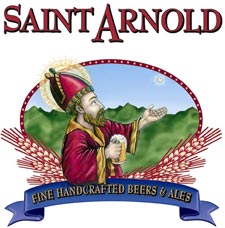 Dear St. Arnold's Army:
We know it's just August
And Summer Pils will be missed,
But it's time for the rollout
Of our tasty Oktoberfest!
While Summer Pils may be still hiding out in a few stores and on a few taps, Oktoberfest will be making its annual appearance at your favorite retailer very soon (if it hasn't already!)
ORANGE SHOW FOAMRAISER AT THE ORANGE SHOW ON SATURDAY, SEPTEMBER 6
We love the Orange Show.
We love the Orange Show Monument.  That's what they call the kooky building that appears to have been created by a lover of oranges while on a bad trip.
We love the concert series the Orange Show puts on throughout the year.
We love that the Orange Show produces the Art Car Parade, possibly the coolest event in Houston.  (You can discuss amongst yourselves if it is the coolest.)
These things all take lots of money, so we offered to help them put on a fundraiser – a Foamraiser, if you will – specifically for the concert series, but anybody who has studied economics will know that money is fungible, and in a way, this event will help everything the Orange Show does.
So come out, explore the Orange Show (there is lots to explore!), listen to some music and enjoy, tasty, complimentary beverages!
Date: Saturday, September 6
Time: 7 PM to 10 PM
Where: At the Orange Show
Address: 2402 Munger St.
Admission: $20 in advance, $25 at the door
For tickets in advance: Click Here
The Music:
Sideshow Tramps: http://www.myspace.com/sideshowtramps
The Grass Skirts: http://www.myspace.com/grassskirts
Taco truck will be selling food during the show
And a special pint glass will be available at this event for purchase.  It's all for an excellent cause!
OTHER COOL SAINT ARNOLD STUFF:
See photos of our new building.  You can watch the progress as it happens! http://www.saintarnold.com/brewery/new_brewery.html
See some of the photos from our first scavenger hunt!  Either go to our Myspace page and click "View My Photos" http://www.myspace.com/saintarnoldbrewing or go to Flickr: Click Here

Kinky Friedman Cigar Company Cowboy Cookouts
Saturday, August 16 – Absolute Tobacco in Katy. 5:00-8:00
Sunday, August 17 – The Cigar Parlor in Humble. 2:00-6:00
More info: http://www.kinkycigars.com/kinky_friedman_events
Divine Reserve No. 7 has been brewed and is in the tank.  It is a Weizenbock and will be released in September.
Shepherd Plaza Pub Crawl to be Saturday, September 13.
Mark this event on your calendars!
Thanks for all your support!
Cheers!
The Brew Crew
Allen, Ann, Bobby, Brock, Chris, Daniel, Frank, James, John, Juan, Justin, Kathy, Kendra, Lennie, Michael, Nicholas, Pedro, Phil, Sam and Vince
—
Saint Arnold Brewing Company
2522 Fairway Park Drive
Houston, TX  77092
713-686-9494
http://www.saintarnold.com
Tours Every Saturday at 1:00 pm