Oktoberfest, Texans Game Bus Trip, Christmas Ale and another GABF Medal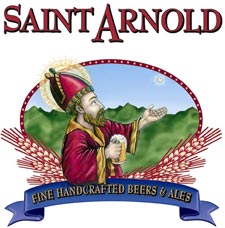 Dear Saint Arnold's Army:
It's Christoberfest time! (Somehow that word looks sacrilegious – no offense intended.) This is that special time of year when we are supposed to be serving Oktoberfest but have run out from most accounts and Christmas Ale is replacing it! Fortunately we start brewing Christmas Ale around the beginning of September and had it ready (so yes, that is VERY fresh Christmas Ale you just found in your store). We'll make more Oktoberfest next year.
OKTOBERFEST PARTY FILLING QUICKLY!
The Saturday evening Oktoberfest is almost full and Friday isn't far behind. If you would like to attend our annual Oktoberfest celebration, please make your reservations soon. And if you have a dirndl or lederhosen, feel free to wear them! Here are the party details:
Event: Oktoberfest
Date: Friday, October 17 and Saturday, October 18
Time: 6 PM to 9 PM
Admission: $49 per person, includes dinner & special mug
Band: Brave Combo
For reservations, call or email Ann (713-686-9494 or [email protected]). As always, she will need credit card, cash or check to make the reservation.
TEXANS VS BENGALS BUS TRIP ON SUNDAY, OCTOBER 26
The Texans have succeeded the last two weeks in providing very exciting games! So join us on our annual bus trip to a Texans game. And with our tailgate party, you are guaranteed to have fun! Even better, this is a 3:00 PM game which makes the tailgating even better! So here's the deal:
We purchased a block of seats in section 609 (upper level, 50 yard line). We will be having everybody gather at the brewery late Sunday morning. The bus will leave at around 11:45 AM and take everyone to our tailgating tent in the Reliant Stadium parking lot for some pregame fun. Then we will go in and hopefully watch our Texans give a butt kicking to the Bengals! After the game, the bus will return everybody to their cars in our parking lot. The brewery will not be open upon return. Here are the details:
Event: Bus trip to Texans vs. Cincinnati Bengals
Date: Sunday, October 26
Time: Meet at the brewery, arriving before 11:45 AM. We are not allowed to serve beer at that hour. Sorry!
Bus leaves: About 11:45 AM
Tailgating in Reliant Stadium Parking Lot: Until we go into the game.
Bus return to brewery: After the game
Price: $80 (includes bus roundtrip and Texans ticket)
For reservations, please call or email Lennie (713-686-9494 or [email protected]). He will need a credit card number, cash or check in order to hold the reservation. Limited space!
WE WON ANOTHER GABF MEDAL IN DENVER SATURDAY!
For the third time, our Summer Pils won a silver medal at the Great American Beer Festival in the Munich Helles category. This brings our GABF medal total to 12 awards over the past ten years. Yea!
Thanks again for all your support!
Cheers!
The Brew Crew
Allen, Ann, Bobby, Brett, Brock, Chris, Daniel, Frank, James, John, Juan, Justin, Kathy, Kendra, Lennie, Michael, Nicholas, Pedro, Phil, Sam and Vince
—
Saint Arnold Brewing Company
2522 Fairway Park Drive
Houston, TX 77092
713-686-9494
http://www.saintarnold.com
Tours Every Saturday at 1:00 pm