News from Great Divide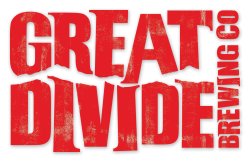 Hello Great Divide Drinkers,
It's still hot out there, and down at the brewery the delicious pints are flowing like…well, beer.
The Tap Room
Our featured artist for August is Beth Sand. Her pieces will be on display all month in the Tap Room. We will have live music on Tuesday, August 12th with local musician Sarah Whiley from 5-8pm. On Tuesday the 26th we're having our monthly beer and cheese pairing, with five artisan cheeses from The Truffle paired with tasty Great Divide brews, $10 5-8pm. On Thursday the 14th and 28th we are going to party like it's 1899, with hand pumped pints of our brewers' favorite cask conditioned concoctions.
Brewery News
The Democratic National Convention is right around the corner (from the brewery, that is). We've been brewing quality craft beer in Downtown Denver for fourteen years and want to welcome all DNC attendees to the neighborhood. Production will be in full swing, and we will be giving brewery tours M-F at 3 and 4pm, and Saturdays on the hour from 2-7pm. We even have event space available for rent. Be sure to look for our Liberally Hopped American Pale Ale, which will be available on tap in local bars. This limited-release American-style pale ale is superbly refreshing, medium-bodied, light copper in color, and liberally hopped with some of our favorite American varieties.
Jonesy's Eat Bar, located at 400 East 20th Avenue in Denver, will be featuring $2 Samurai and Wild Raspberry bottles during Happy Hour.
Beer News Abroad
Pints for Prostates is an awareness campaign designed to reach men through the wonderful and universal language of beer. Rick Lyke, a 47-year-old Charlotte, NC marketing executive and beer journalist who was diagnosed with prostate cancer in February, says, "Early detection is the key to fighting prostate cancer… regular PSA testing and physical exams are the best method to catch it early." http://www.ustoo.org/pints
Support Your Local Brewery is a national grassroots partnership of beer enthusiasts, professional trade associations, and brewers dedicated to supporting and protecting the legislative and regulatory interests of small, traditional, and independent craft breweries. http://www.supportyourlocalbrewery.org/
Beer Festivals
A Great Divide representative will be standing by to assist you with tough beer related decisions.
Aug. 9th  -SummerFest Music Series-Denver, CO
Aug. 9th-24th Annual Taste of Grand County-Winter Park, CO
Aug. 15th – Bend Brew Fest-Bend, OR
Aug. 22nd-The Wildlife Experience's Art & Ale-Parker, CO
Aug. 23rd – Foam Fest at the Colorado State Fair-Pueblo, CO
The Hop Shop You love beer. Say it loud. Say it proud. Say it with Great Divide gear!
You asked for it, so there it is. For more Tap Room and beer info click here.
www.myspace.com/greatdividebrewing