New Belgium's Tour de Fat Celebrates Pedal Power in 11 Cities This Summer
Get Prepared for Another Season of Theatrical Antics, Wild Costumes and the Most Fun You May Ever Have on Two Wheels
Ft. Collins, CO. – Tour de Fat, New Belgium Brewing's traveling celebration of all things bicycle, rolls through 11 cities this season, spreading the good word about the myriad benefits of cycling and celebrating mankind's greatest invention… the bike. Over the last eight years, Tour de Fat has captured the imagination of thousands with record-setting parades, eye-popping entertainment, death-defying contests of bicycle skill and precision, and, of course, New Belgium beer. This year, the festival kicks off in Chicago, where Tour de Fat will make its debut appearance in the Windy City on June 21. Ten more cities across the west are slated through October.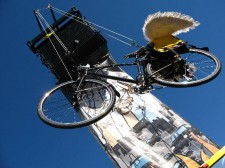 Opening each show with a costumed bike parade, Tour de Fat celebrates the power of the bike. Born in Ft. Collins, Colorado to increase awareness and participation in cycling as a sustainable form of transportation, Tour de Fat has grown into a national rite of passage for cycling advocates and bon vivants alike.
"Tour de Fat is a time to celebrate self-expression and all things ridiculous, so alter-egos and costumes are highly recommended and will be rewarded," said Chris Winn, Tour de Fat's coordinator and event evangelist. "In the name of group participation, we treat this event like a potluck…everyone can contribute to the event in their own way. That is what Tour de Fat is all about."
Tour de Fat is free to participants, but beer and merchandise proceeds go to local cycling non-profits. The philanthropic cycling circus helped 26 non-profit organizations in 2007 and raised more than $245,000.
"If we get more folks than we can accommodate this year, we may have to do one-in, one-out, and the costumed and early risers will be granted first entry," continued Winn.
"So arrive early and dress the part – if everybody's weird, no one is, right?"
Tour de Fat seeks to leave as small an environmental imprint as possible and composts and recycles waste from each tour stop. The waste diversion rate goal for this year is 95%. All musical acts will perform on a solar-powered stage, trucks and transport utilize B100, and all vendors operate off the grid.
Highlights of Tour De Fat:
One volunteer in each city will commit to live car-free for one year as part of the Car-for-Bike Trade Program. The dedicated individual will sign over their car title and receive a custom-fitted New Belgium commuter bike in exchange. The selected candidate will chronicle the trials and triumphs along their car-free journey. The volunteer is chosen after submitting a video describing their desire to live car-free. For more information, click here.
As part of the Car-for-Bike Trade Program, each Tour de Fat stop will have a funeral for the departed car complete with a Mardi Gras-esque funeral procession. This funeral will be followed, later in the day, by a celebration of the arrival of the Car-for-Bike volunteer's custom commuter bike.
At the Team Wonderlounge, participants can join Team Wonderbike, New Belgium's bicycling commuter advocacy program. Team Wonderbikers pledge to commute by bike, not car, as often as possible. Currently, 11,000 people have pledged not to drive 9 million miles in the next twelve months.
Tour de Fat 2008 has a new revival stage for performers with 100% solar-powered sound and decorations made from recycled materials. The stage will be transported in solar-powered trailers and the Tour de Fat crew will travel on B100 biodiesel fuel.
Festival-goers can try out new rideable art bikes and, of course, the bicycle parade will meander through each of the stops.
This year two people and a guest each will win a trip to Tour de Fat in Fort Collins, Colorado for the home-town throw-down (California exempt). For a chance to win, click here.
This is a pro-bike celebration, not an anti-car rally…non-cyclists are more than welcome to join the festivities.
Tour de Fat 2008 will cycle through each of the following cities:
June 21: Chicago, IL
July 19: San Francisco, CA
July 26 : Truckee, CA
Aug. 2: Seattle, WA
Aug. 16 : Portland, OR
Aug. 23: Boise, ID
Sept. 6: New Belgium Brewing (Ft. Collins, CO)
Sept. 13: Denver, CO
Sept. 20: Durango, CO
Oct. 11: Tempe, AZ
Oct. 18: Austin, TX
For more information and to see a video montage of previous Tour de Fat stops, please click here
About New Belgium Brewing Company
New Belgium Brewing Company, makers of Fat Tire Amber Ale and a host of Belgian-inspired beers, began operations in a tiny Fort Collins basement in 1991. Today, the third largest craft brewer in the U.S., New Belgium produces seven year-round beers; Fat Tire Amber Ale, Sunshine Wheat, Blue Paddle Pilsner, 1554 Black Ale, Abbey, Mothership Wit and Trippel, as well as a host of seasonal releases. In addition to producing world-class beers, New Belgium takes pride in being a responsible corporate role model with progressive programs such as employee ownership, open book management and a commitment to environmental stewardship. For more information, visit www.newbelgium.com.