Michigan Beer and Brat Fest!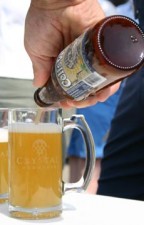 3rd Annual Michigan Beer & Brat Festival
Returns to Crystal Mountain Resort – May 24(EAST LANSING, Mich) – The Michigan Brewers Guild has once again partnered with Crystal Mountain Resort in Thompsonville for the 3rd Annual Michigan Beer & Brat Festival, planned for Saturday, May 24.
"The Michigan Beer & Brat Festival has quickly become the event that marks the beginning of the summer season at Crystal Mountain," says Brian Lawson, public relations & special events manager for Crystal Mountain. "This festival is a great opportunity to discover a countless number of fine lcoal brews and an extensive menu of specialty brats you're only going to find in Michigan."
Admission to the Michigan Beer & Brat Festival is $20 and includes a commemorative mug, as well as tickets for beer and brats and giant Bavarian pretzels. Live entertainment is also planned.
"What better way to celebrate the start of the warm-weather season in Michigan than with a cool fresh hand-crafted beer," says Scott Graham, Executive Director of the Michigan Brewers Guild. "Our partnerships with Michigan's top tourist properties such as Crystal Mountain Resort not only give us a great venue to showcase some of the finest Michigan beers but it helps us reinforce the value of the state's overall hospitality industry."
For those looking to add to the holiday weekend experience, Crystal Mountain is offering a special lodging package that allows guests to add a few birdies (and maybe a couple bogies) to their beers and brats. The Birdies, Beers & Brats package includes two nights lodging, unlimited golf, two breakfasts and admission to the Michigan Beer & Brat Festival. Rates start at $279 per adult and are available May 23-25. For reservations, call 800-YOUR-MTN or for more information, log on to www.crystalmountain.com.
The Michigan Brewers Guild exists to unify the Michigan brewing community; to increase sales of Michigan-brewed beer through promotions, marketing, public awareness and consumer education; and to monitor and assure a healthy beer industry within the state. For more information, including a list of Michigan microbreweries, log on to www.michiganbrewersguild.org.