Mercury Brewing – Strong Ale Release This Saturday!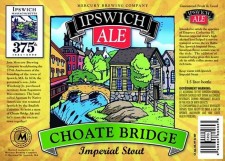 2009 marks the 375th Anniversary of the town of Ipswich. As part of the festivities, Mercury Brewing will be releasing, in limited quantity, 1.5 liter bottles of strong ales. The first in the series will be the Ipswich Imperial Stout.
The first 20 cases, or 80 1.5L bottles of the Imperial Stout will be sold right out of the brewery on a first come, first serve basis.
WHEN: Saturday January 17th, 11am-3pm
WHERE: Mercury Brewing Co.
23 Hayward Street
Ipswich, MA
WHAT: 1.5L wax-dipped magnum bottles of the Choate Bridge Imperial Stout are being sold right out of the brewery this Saturday only. 1.5L bottles are $25.00 each. Beer samples and a short tour will be offered with purchase of the Imperial Stout. Bottles will be available in local package stores at a later date.
**A portion of the proceeds will be donated to the Ipswich 375 Committee**