MAXIM Magazine Ten FIDY: "Top 25 New Beers In America"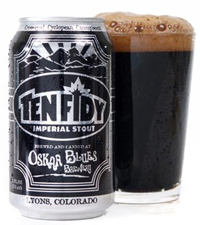 Oskar Blues Brewery's voluptuous Imperial Stout in a can was named in MAXIM Magazine's February cover feature "Top 25 Best New Beers In America".    Mike Dawson, the author of the article says, "The beer pros at Oskar Blues have struck black gold.
This canned, oh-so-drinkable skull-crusher is thick and black like Texas tea, smells like sweet pipe tobacco, and has deep notes of maple bacon, cherries, and mesquite".
Click here to see our review of Ten Fidy
NEW Seasonal – GUBNA Imperial IPA to be Launched in 4-Packs March 1st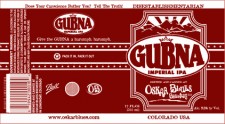 Emphasizing that complexity of character can arise from simple elements, this ale is made with 3 malts and 1 hop. Its light amber color and slightly spicy malt character are derived from the use of German Dark Munich Malt and Rye Malt respectively.
North American 2-row barley combines with the other grains to lay the foundation for the hop onslaught to come. Summit hops are used exclusively in the boil for bitterness, flavor and aroma but it doesn't end there. Post-fermentation dry hopping allows the 9.5% ABV monstrosity to gently coax the citrus rind and grapefruit aroma to join the 100 IBUs already present. This beer will greet you with a pungent citrus blast, provide a spicy yet round middle and finish with a brisk, clean bitterness.
Available March through October in 4-Packs of 12oz cans or Kegs
Oskar Blues at San Francisco Beer Week, Feburary 5th through 13th
Fri. Feb 5th- Tasting at Santa Rosa Bev Mo
Mon. Feb 8th- Canapalooza at 21st Amendment in SF (5-10pm)
Tue. Feb 9th- Barrel aged tasting (all day) at Jupiter in Berkeley, Beer dinner at Mondo's in Sonoma (6 pm)
Thu. Feb 11th- Barrel aged night at Church Key (Scott), Canapalooza at Manny's Tap Room in Berkeley (5-10pm)
Fri. Feb 12th- Barrel aged night at Pi Bar in SF (Scott), "Gordon Night" at Mission Pizza and Pub (6-9pm)
Sat. Feb 13th- Barleywine Festival at Toronado (all day), Canned Craft Tasting at the Jug Shop in SF (6:30pm-8:30pm)