Maryland Brewer's Oktoberfest Announces Beer List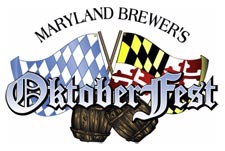 Maryland Brewer's Oktboberfest Announces Styles and Flavors That WIll Be Available On October 11th
Attendees Can Choose From Over 75 Different Beers from Local Breweries
Towson, MD – The Brewer's Association of Maryland today announced the official beer list that will be featured at the 7th annual Maryland Brewer's Oktoberfest on October 11, 2008 at the Maryland State Fairgrounds in Timonium, Maryland. The festival will include beer gardens featuring over 75 beers from twelve local breweries, a delicious assortment of food, live bands, exciting contests, oompah bands and much more.
"We have exceeded our expectations with the amount of beer that will be on hand and this event will present an unmatched selection of flavors for guests to taste," stated Hugh Sisson, President of the Brewer's Association of Maryland. "The Maryland breweries always bring their best beers and attendees can't get enough of this festival."
A special beer that will be at the show and will be brewed exclusively for the Maryland Brewer's Oktoberfest is called BAM Bierfest. The beer was brewed in the tradition of Dusseldorf's famous Sticke Alts and can only be bought on-site at the show. Traditionally brewed twice a year, Sticke Alt is similar to Munich's Octoberfest beers. Cold fermentation with a special German ale yeast and extended cold conditioning give this beer a smooth and crisp character.
While tasting Maryland brews and shopping around for numerous arts and crafts, attendees will be entertained by dancing and musical performances on two stages. The main stage will consist of local acts such as Black Falls Band, Great Train Robbery and the Kelly Bell Band. The "German" stage will feature Baltimore's finest oompah revelers – the Edelweiss Band and the Home Brew Contest. Everyone will also be amused by the Miss Oktoberfest Contest, Baltimore's Best Beer Belly Competition and the Wife Carrying Contest.
This year, the amount of taps and the amount of bars at the show have been doubled. Because of the large amount of crowds, they are doubling the beer order as well so guests do not have to wait in long lines.
An admission ticket and a souvenir tasting mug is $18.00 in advance or $25.00 on-site and include eight beer tokens. Designated driver admission is also available for $10.00 and includes water. Kids 12 and under are free. For more information on purchasing tickets for the Maryland Brewer's Oktoberfest, please visit www.MDOktoberfest.com or call 800-830-3976.
The list of beers is as follows:
Barley and Hops Annapolis Rock Pale Ale
Barley and Hops Bitch'n Red Head
Barley and Hops Dirty Little Blonde Lager
Barley and Hops Oktoberfest
Barley and Hops Double Deuce Double IPA
Barley and Hops Firkin of ESB
Brewer's Alley Kolsch
Brewer's Alley India Pale Ale
Brewer's Alley Pilsner
Brewer's Alley Oktoberfest
Brewer's Alley Blueberry Wheat
Brewer's Alley Oatmeat Stout
The Brewer's Art
Heavy Seas Winter Storm
Heavy Seas Loose Cannon
Oxford Organic Raspberry
Clipper City MarzHon
Dog Brewing Fest Dog Lager
Dog Brewing Blueberry Dog
Dog Brewing Blond Dog
Dog Brewing Hoppy Dog
DuClaw Brewing Bare Ass Blonde
DuClaw Brewing Misfit Red
DuClaw Brewing Kangaroo Love
DuClaw Brewing Hellrazer
DuClaw Brewing Alchemy
DuClaw Brewing Euphoria
DuClaw Brewing Sawtooth
DuClaw Brewing 31
DuClaw Brewing Consecration
DuClaw Brewing Mysterium
DuClaw Brewing Blackout
DuClaw Brewing Devil's Milk
DuClaw Brewing Misery
DuClaw Brewing Deception
DuClaw Brewing Blackjack Stout
DuClaw Brewing 13 Degrees
DuClaw Brewing Celtic Fury
DuClaw Brewing Mayhem
DuClaw Brewing Repent
DuClaw Brewing Colossus
Flying Dog Doggie Style Pale Ale
Flying Dog Dogtoberfest Marzen
Flying Dog Gonzo Imperial Porter
Flying Dog In-Heat Wheat Hefeweizen
Franklins Brewery
Growlers
The Raven Lager
Raven Pendulum Pilsner
Red Brick Station Daily Crisis IPA
Red Brick Station Something Red
Red Brick Station EJ's Pumpkin Ale
Red Brick Station Spooner Stout
Oliver Breweries Unlimited (The Wharf Rat)
BAM Bierfest