Karl Strauss – Karlfest 2009 Coverage & Pics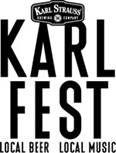 Saturday, Oct. 3rd 2009 was an epic day full of sun, fun, food, cheer, and most importantly good beer.
I rolled down to Tustin, picked up my buddy Jimmy, and headed down to Costa Mesa for Karlfest. We both had never been to South Coast Plaza, so with trepidation, we rolled through the parking lot only to find we were in the wrong place. We crossed the street, saw the shin dig, found a parking spot, next to a frickin' sweet Ferrari, and walked right into a beerfest! I had preconceived notions of some Richie Rich douche bags spoiling the day, thankfully I had no problems at all, everybody was cool.
Karl Strauss has come so far with their beers, I was almost shocked. We started off the day with some cask beer, Lavender Pale Ale. Flowery doesn't even begin to describe the nose, very nice, dry hop taste, little bitterness, and a dry finish, not a bad start. Next up, Padre Porter, slightly thinner than I like, but good, slight chocolate and coffee nose, great taste, just a bit watery, good coffee finish. I had to have some dunkel, so the 20th anniversary Dunkel was next, no description necessary, dark goodness, if you like traditional dunkels, you will love this. Then we hit pay dirt, the best beer of the day, and one of the best DIPA's I've ever had, Big Barrel Double IPA, damn that is a great beer, perfect nose, nice and hoppy, great mouthfeel, perfect balance, and a bitchin' finish, after 2 or 3 tasters of this I noticed it was 9% ABV, WHAT?, this was the smoothest drinking beer all day, way good bang for the buck!
We decided it would only be fair to taste some other beer, so we hit up Back Street Brewery, and had some, get this cool name, Oktomomtoberfest. This was a marzen, German style, Pretty fair beer. Next on to the Left Coast booth, I like me some Hop Juice DIPA, and now the let down, sorry dudes I still love you though. This was a questionable batch, every other time this beer has been really good to me, this time a little too sweet and cloying, way too much malt, not enough hops, oh well, still a gnarly beer.
After looking down at our wrist bands, yes we needed more than five tickets, we decided to go back and get alot more Big Barrel DIPA. I thoroughly enjoyed hanging out with Beermug from KROQ, and listening to The Colourist, a really bitchin' band. Yeah maybe it was the drummer, a cute GIRL, I'm a sucker for girls doing things they aren't usually associated with. Kicking ass Phil Collins style, singing and playing at the same time, she was rockin' it. Of course the rest of the band was good, but they were dudes, they had the wrong color eyes, but seriuosly, if they weren't out of CDs, I woulda bought one, and Jimmy too.
All in all, honestly one of the best Karlfests yet, Great beer, cool tunes, nice people, and helping out The Surfrider Foundation, I didn't win anything in the raffle, again…, but it's all good, maybe next year. So thank you Karl Strauss, and of course all the employees and volunteers, for one of the best festivals we've been to in a while.