Karl Strauss Hosts 7th Annual Beach to Brewery Beer and Music Fest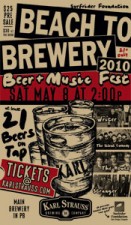 San Diego, CA – Karl Strauss Brewing Company and the Surfrider Foundation, San Diego Chapter, are hosting the 7th Annual Beach to Brewery Beer and Music Fest on Saturday, May 8, 2010 from 2pm-7pm.  The benefit takes place at the Karl Strauss Main Brewery in Pacific Beach and includes 21 beers for 21 years, live local music, and a bike ride from the beach to the brewery.
To celebrate Karl Strauss' 21st Anniversary, the event will feature 21 unique beers on tap, including Big Barrel Double IPA, 21st Anniversary Ale – an ale brewed with Zinfandel grapes, new seasonal Pintail Pale Ale, and World Beer Cup gold-medal winning Red Trolley Ale.  The event will also debut a Surfrider/Karl Strauss collaboration beer, Reef Break Red.  Bill Hickman, Surfrider Foundation San Diego Chapter Coordinator and new homebrewer, spent a day at the brewery helping to create this robust Belgian Red Ale.  In addition to the diverse assortment of beers on tap, there will be 5 special casks created just for the event, including a Lavender Hefeweizen and a black pale ale.  Tours of the recently expanded brewery and new bottling line will be available throughout the event.

Beach to Brewery is known for showcasing local talent, and this year is no exception.  The event kicks off with Stranger—whose drummer is a brewer for Karl Strauss—followed by local sensations The Silent Comedy, The Howls, and Writer.  The region's favorite indie rock Radio station 91X will be broadcasting live from the event.
To date, Beach to Brewery has raised over $67,000 for the local San Diego Chapter of the Surfrider Foundation.  This year, in an effort to support Surfrider's "Rise Above Plastics" campaign, the event will eliminate the use of plastic cups.  Reusable souvenir glasses will replace more than 10,000 plastic cups at the event.  Karl Strauss has hired Hands-On Recycling to individually sort the remaining recyclables from trash to divert unnecessary waste from landfills.  Additionally, the company is hosting an employee beach clean-up to support Surfrider's cause in a hands-on way.
Tickets for Beach to Brewery are $25 pre-sale and $30 at the door.  Tickets are available at the company's four San Diego Brewery Restaurants, as well as online at the company's website.  To help raise awareness for Surfrider's mission, attendees have the option to add a 1-year Surfrider membership for the discounted price of $15 when purchasing their event ticket online.  The event has sold out the past three years, so guests are encouraged to buy tickets early.  Free shuttles to and from the event will depart from Dusty Rhodes Park in Ocean Beach as well as the Library in Pacific Beach and run throughout the event.  For tickets and more information visit www.karlstrauss.com.  Share it.  Cheers.
###
About Karl Strauss Brewing Company
This year Karl Strauss Brewing Company turns the big 2-1, the most important year in a beer drinker's life.  This coming of age will be celebrated throughout 2010 with a diverse lineup of 35 beers, including 6 year-round favorites, 3 seasonal offerings, and a host of innovative special brews.  Located in San Diego and distributed exclusively in Southern California, Karl Strauss currently ranks #40 on the list of Top Craft Breweries in the country.  In addition to handcrafting quality beers, Karl Strauss is a leader of the beer and culinary connection at their six local brewery restaurants.  For more information visit karlstrauss.com or call the brewery at (858) 273-2739.