Holiday And Strong Ale Fest At Library Alehouse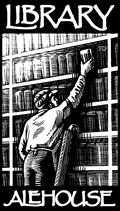 Santa Monica, Ca – Library Alehouse is having their first in a series of festivals that are to be held throughout next year. $10 buys you a Library logo-emblazoned tasting glass and your first pour from a rotating list of ten seasonal and strong ales.
You can refill your glass for $2.50 – $5 with any one of the ten specialty ales they will be rotating throughout the fest. Monday December 20th is the kickoff date, and the tap list is mouth-watering.
Nogne O / Jolly Pumpkin / Stone Special Holiday Ale
Jolly Pumpkin Noel de Calabaza
N'ice Chouffe
Dogfish Head Pangaea
Dogfish Head Chicory Stout
Sierra Nevada Celebration
Anchor Brewing's Merry Christmas Happy New Year Ale
Anderson Valley's Winter Solstice
Delirium Noel
Gouden Carolus Noel
The festival runs through January 1st, and you can come refill you glass as many times as you like with any of the above beers. Once a tap runs dry it will be replace with one of these other fabulous libations.
Val Dieu Grand Cru
Bootlegger Chocolate Mint
St. Bernardus Noel
Affligem Noel
Ommegang Adoration
Sierra Nevada Brewer's Reserve
Alaskan Winter
Lost Coast Winterbraun
Karl Strauss Parrot in a Palm Tree
Great Divide Hibernation
Avery Old Jubilation
Gouden Carolus Van de Keizer Blauw
In addition, on Tuesday December 28th, Library will be hosting the Los Angeles Bicycle Coalition for a fundraising event where we will donate 15% of our daily sales to the organization. On that day they will be tapping the Bruery's Three French Hens and Rugbrod, plus Ben Weiss and Jay Goodwin will be on hand to lend you their secrets. (well, maybe.. if you ask really nice) They will probably bring up some bottles from their new provisions store as well, and we will be serving some small pairing bites with their beers as well.
Library's festivals for next year that will follow the same format are scheduled for February – IPA, May – Belgians, July – Funk and Sour, September – Oktoberfest, November – Hop Harvest. And lets not forget LA Beer Week in October! **Please note: Library Alehouse is closed for Christmas Eve, and Day. As well as closing at 7 PM on New Years Eve, and Opening at 1PM on New Years Day** Bundle up, ride on down, and leave your bike at the free bike valet out front!