High Gas Prices Turn People to Pedal Power
Trade in Four Wheels for Two: New Belgium Brewing's Car-For-Bike Swap Is Back At Tour De Fat Celebrations
Fort Collins, CO – Your car guzzles gas money and pollutes, so ditch it and ride a bike. In fact, turn your car title over to New Belgium Brewing at Tour de Fat celebrations this summer and receive a custom New Belgium commuter bike. The second annual Car-for-Bike Trade program will take place in all 2008 Tour de Fat stops. For volunteer car-swappers willing to forgo gas for pedal power and want to show friends and neighbors the benefits of living car-free, click here.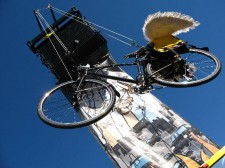 Through the program, one volunteer in each Tour de Fat stop will commit to live car-free for one full year. The dedicated individual will sign over their car title and receive a custom New Belgium commuter bike in exchange. The selected candidate will chronicle the trials and triumphs along their car-free journey. The volunteer is chosen after submitting a video or essay describing their desire to live without a vehicle.
As part of the Car-for-Bike Trade Program, each Tour de Fat stop will have a funeral for the departed car complete with a Mardi Gras-esque funeral procession. This funeral will be followed, later in the day, by a celebration of the arrival of the Car-for-Bike volunteer's custom commuter bike.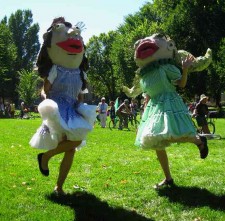 Tour de Fat, New Belgium Brewing's traveling celebration of all things bicycle, travels the country spreading the good word about the myriad benefits of cycling and celebrating mankind's greatest invention… the bike. Over the last eight years, Tour de Fat has captured the imagination of thousands with record-setting parades, eye-popping entertainment, death-defying contests of bicycle skill and precision, and, of course, New Belgium beer.
Tour de Fat 2008 will cycle through each of the following cities. To submit a video or essay for consideration as a Car-for-Bike volunteer, log on to http://www.followyourfolly.com/pdf/biketrade.pdf.
June 21: Chicago, IL
July 19: San Francisco, CA
July 26: Truckee, CA
Aug. 2: Seattle, WA
Aug. 16: Portland, OR
Aug. 23: Boise, ID
Sept. 6: New Belgium Brewing (Ft. Collins, CO)
Sept. 13: Denver, CO
Sept. 20: Durango, CO
Oct. 11: Tempe, AZ
Oct. 18: Austin, TX
For more information and to see a video montage of previous Tour de Fat stops, please click here
About New Belgium Brewing Company
New Belgium Brewing Company, makers of Fat Tire Amber Ale and a host of Belgian-inspired beers, began operations in a tiny Fort Collins basement in 1991. Today, the third largest craft brewer in the U.S., New Belgium produces seven year-round beers; Fat Tire Amber Ale, Sunshine Wheat, Blue Paddle Pilsner, 1554 Black Ale, Abbey, Mothership Wit and Trippel, as well as a host of seasonal releases. In addition to producing world-class beers, New Belgium takes pride in being a responsible corporate role model with progressive programs such as employee ownership, open book management and a commitment to environmental stewardship. For more information, visit www.newbelgium.com.