Firestone Walker's Deconstructed Rocks Hollywood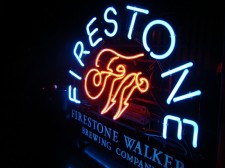 Firestone Walker celebrated the release of their 15th Anniversary Ale with a spectacular multi-sensory tasting event at the premier Hollywood venue Bardot.
Deconstructed may very well be one of the greatest pairing events we've seen this year for not only did it showcase the best Firestone Walker had to offer, but is also showcased world-class cuisine from the Home Brew Chef himself, Sean Z. Paxton. The event was built around the release of Firestone's XV; a one-of-a-kind blend created with the help of a group of neighboring Paso Robles winemakers.
Featuring an eight-course small plates menu paired with beers "deconstructed" from the XV blend curated by brewmaster Matt Brynildson, this event truly highlighted the complexity and special nuances that make up the Firestone Walker fleet. Course by course I was delighted by Paxton's incredibly thought-out creations. The level of culinary expertise was unsurpassed, and I found myself discovering new flavors from some of the beers that I have had dozens of times before. The evening began with a few playful takes on your typical bar snacks. Organic popcorn cooked in duck fat, drizzled with saffron white truffle oil, and dusted with hop salt as well malted cashews and duck chicharrones made for great company for the Pale 31 and Double Barrel Ale (from a firkin)–the only sessionable brews of the night.
As I struggled with the atmosphere (great for the event, bad for my old camera), David Walker took to the mic and greeted guests with a warm welcome as he introduced the evening's two evil geniuses. After a brief introduction from Paxton and Brynildson, the first course rolled out: Paxton's take on a Duck Tagine. Coated with Belgian sugar, coriander, and ginger then cooked sous vide, the duck breast was incredibly moist, tender, and rich; topped with prune, pomegranate, and a Sticky Monkey sauce and served over black beluga lentils simmered in Double Jack and carrot juice. This course was paired with Sticky Monkey; an incredibly sweet and dense barley wine which provided a good buffer to the rich flavor profile of the protein.
Liberty provides duck to some of the best restaurants in the country and is a highly sought-after product. When I spoke to Paxton, he had mentioned how difficult it was to obtain the amount of duck needed for this event due to a combination of demand and complications with weather and with some luck, he was able to convince three different friends to share their supply.
The second course was lighter fare. Paxton had taken an old Union barrel and used it to create planks to cold smoke fresh sea scallops; infusing a distinct flavor into the scallops that was complimented with roasted beet-fennel-ginger infused Israeli cous cous on the bottom and a medley consisting of a DBA glaed Medjool date, fennel pollen, and carbonated finger lime "caviar." I enjoyed the delicate texture of the scallops with just a touch of smoke paired with the Double DBA, and the use of the finger lime (which is a rare lime variety now making its debut at farmers' markets around California).
Next up on the list were two lamb courses which were probably my top two dishes of the night. The lamb tenderloin morsels with dried apricots, homemade lavender honey, shallots, and Helldorado sauce were perfectly perched atop a beautiful butternut squash puree which was cooked in Bourbon barrel "tea," infused with Ceylon cinnamon, Double DBA, and honey powder. This was the perfect bite! Incredibly well-rounded, tender, and multi-dimensional, pairing perfectly with the slightly lighter Helldorado (which has been lovingly dubbed a "session-style barley wine"in comparison to the other offerings of the evening). This pairing seemed to be one of the crowd favorites, although it was truly difficult to choose from such a solid arsenal.
The Merguez sausage pastries were also a big hit. Perfect little buttery phyllo pastry layered with Middle Eastern spices wrapped homemade merguez spiced lamb sausage with Union Jack, house made goat milk ricotta with malt vinegar; orange zest and piquillo peppers. The richness of the ricotta and the exotic spices matched wonderfully with the Double Jack Imperial IPA, which provided a cleansing balance with its aggressive hops and was a great segue into the dessert courses.
Paxton introduced his take on a cheese course; a Morrocan almond cookie topped with lucious Pt. Reyes bleu cheese and a Double Barrel wort honey sprinkled with lemon thyme. The cookie was sweet and lemony with the bleu cheese enveloping every taste bud—a great way to enhance the carmelized sugar, maple, Bourbon notes found in Firestone's Bravo.
The last three courses made sure the night ended with a bang. The Velvet Merkin Chocolate Cake (paired with a beautiful bourbon barrel aged Velvet Merkin) was crisp on the outside and moist on the inside. Cleverly served with a pipette filled with Sticky Monkey caramel sauce alongside malted pop rocks and pistachio powder. The bourbon barrel aged Velvet Merkin was a revelation. Intensely aromatic with bourbon, mocha, and brown sugar; sweet and almost dangerously drinkable. The "Bieramisu," Paxton's take on the traditional Tiramisu was lovely. Lady fingers dipped in Good Foot and Elijah Craig 18 Year Old Barrel Bourbon layered with a malted raisin juice infused mascarpone cream with Vietnamese cinnamon. Paired with the Good Foot, this dessert was creamy and packed a bit of a punch at the end.
Last but not least was the Salty &Sweet course; an incredibly indulgent dish consisting of beer bacon coated in dark TCHO chocolate, encrusted with Heaven Hill Bourbon barrel smoked hazelnuts and caramelized cocoa nibs and served next to a shooter of Parabola chocolate mousse with marasca cherries. While the bacon was definitely a treat, my favorite part was this luxurious beer-spiked mousse. Released just this past summer, Parabola is a big Imperial Stout that is both aggressive and rich, providing the classic chocolate and stout pairing.
The final beer for the event was the culmination of all these bold flavors: the XV Anniversary Ale. This ale was lightly carbonated and was lighter than many of its component beers. Highly drinkable with dark fruit notes and big flavors layered in a symbiotic way, with just a touch of a hop profile in the background. Familiar characteristics for Firestone like stunning wood and caramel notes, toasted coconut, and amazingly enough, room to breathe. This was the first blend that ever saw a hoppy component beer, and in my opinion, it really worked for them. I'd love to see how the hops in this beer age a little while longer.
Overall, this event was fantastic. From the ease of checking in, to the fact that there were no lines inside the venue and ample hard-working servers to make sure every course and beer was delivered in a timely manner, the folks at Firestone Walker really nailed it. While the venue was beautiful, the beers and food really shined, offerinamg a taste of the potential beer can be elevated to in gourmet fine dining. Paxton did a wonderful job and it's his enthusiasm for creation and dedication to using the best ingredients in every course that really made me respect and appreciate Paxton's craft. Firestone Walker creates beers in a way most brewers wouldn't even fathom, and it's this out of the box and into the barrel thinking that makes their beers so unique.