Firestone Walker Anniversary Pint Night At Steingarten LA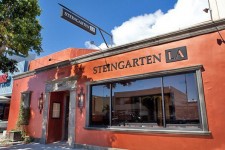 Steingarten LA Proudly Welcomes: The Firestone Walker Brewing Company. Please join us for an anniversary celebration featuring:
Five Amazing Draft Beers
Firestone XV Anniversary Ale
Velvet Merlin Oatmeal Stout
Union Jack India Pale Ale
Double Jack Imperial IPA
Unfiltered Double Barrel Ale
On hand from the brewery will be Jim Tsarpalas to talk about the beers. We will have a limited amount of "keep the glass" pints available with the purchase of a beer while supplies last. The XV will tap at 7:00 PM sharp. Come and get it while you can!
We will also be featuring some awesome pairings from the Steingarten LA kitchen so come hungry. Check the facebook page for more details.
7:00 PM Monday December 5th 2011 @ Steingarten LA
10543 W. Pico Blvd. Los Angeles Ca, 90064
www.steingartenla.com – @SteingartenLA – Facebook