Firestone 14 Anniversary Pairing Dinner At Library Alehouse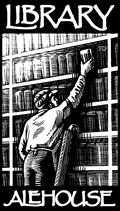 Santa Monica, Ca – Two Certified Cicerones. Five courses. Five Firestone Walker Beers. One wonderful dinner.
Library Alehouse is proud to announce their next pairing dinner. In 2006 Firestone Walker released a beer simply called "10", that changed the landscape of blended beers. They sourced some local wine-making talent to taste and blend a number of their barrel-aged beers. The result was an instant success, and their barrel-aged program quickly developed a cult following. In November of 2010 the released the latest in the series, "14".. full tasting notes can be viewed here.
Library Alehouse was lucky enough to procure a keg of this delicious brew, and we felt it necessary to do it some justice by throwing a pairing dinner. To round things out, we are bringing in more of Firestone Walker. Perhaps the most exciting of those being a cask of unfiltered Double Barrel Ale; a true rarity in these parts. Many at the Alehouse are also giddy about the Velvet Merlin Oatmeal Stout ice cream, being crafted by Sweet Rose Creamery just for the event!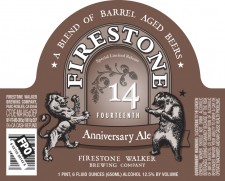 Library Alehouse's Thomas Kelley and Firestone Walker's Jace Milstead have put their heads and palates together to create a pairing menu that neophytes and connoisseurs alike will be sure to appreciate and enjoy. The beer lineup is epic, and the food pairings will only serve to elevate the tasting. Thomas and Jace will provide thier own brand of witty banter, speaking about beer, why it is great, and how pairing food can make it even more enjoyable. The entire experience promises to be one to remember.
Course One:
· Beer: Pale 31
· Food: House-made Guacamole and Tortilla Chips
Course Two:
· Beer: Unfiltered Double Barrel Ale on Cask
· Food: Slider topped with Maple Bacon and Caramelized Onions
Course Three:
· Beer: Double Jack
· Food: Fried Alexander Valley Pickle Chips with Custom Aioli
Course Four:
· Beer: Firestone Walker 14th Anniversary Ale
· Food: Alehouse Ribs Smoked In-house with Hoisin-Style BBQ Sauce
Course Five:
· Beer: Velvet Merlin Oatmeal Stout
· Food: Velvet Merlin Ice Cream Custom Crafted by Sweet Rose Creamery
RSVP required!
The festivities will commence at 6pm on Wednesday, February 9th. Tickets can be purchased for $45 each (plus tax and tip), either in person at the Library Alehouse or online.
Find out more about Firestone Walker's beers at www.firestonebeer.com
Find out more about the Cicerone Certification Program at www.cicerone.org
Find out more about Sweet Rose Creamery at www.sweetrosecreamery.com
The Library Alehouse is a true public house, Santa Monica-style, featuring an ever-changing variety of over 29 craft beers on draft, as well as many hard-to-find bottled beers from around the world. Library Alehouse also features a wide variety of appetizers, salads, soups, sandwiches and entrees.
The Library Alehouse supports a number of non-profit organizations by donating 15% of sales from the last Tuesday of every month. The Library Alehouse is located at 2911 Main St. in Santa Monica. Hours of operation are 11:30 a.m. to midnight seven days a week and the restaurant is available for private parties and offers catering. For more information, please call (310) 314-4855.