Deschutes The Abyss Release Party at The Pub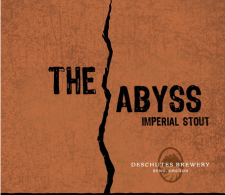 We dare you to fall into the depth of The Abyss once again and discover why this dark and mysterious imperial stout has everyone craving more. Far from an empty void, this abyss is filled with dark malts, brewers' licorice and black strap molasses and is then "dry hopped" with vanilla beans and cherry bark making it rich and complex beyond belief. Aged in bourbon, Oregon oak and pinot barrels, this precious liquid only gets better with age.
Join us for a celebration of this beer on Thursday, November 15th at our pubs in Portland and Bend. Bottles, snifters & swag of The Abyss 2012 will be available for purchase beginning at 11:00am. LIMITED flights of The Abyss 2008-2012 will be available beginning at 5:00pm and you won't want to miss it!Come on down and celebrate the darkness in a glass that is: The Abyss
To check out the Bend Pub event, click here.
Deschutes Brewery Portland Public House
210 NW 11th Ave.
Portland, OR
(503) 296-4906