Deschutes Brewery Hits The Twin Cities For The Mother Of All Base Camps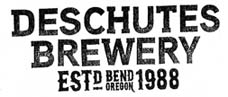 Deschutes Brewery Base Camp Week July 18-28, 2012
Twin Cities, MN – Deschutes Brewery brings its Base Camp campaign to the Twin Cities (and some lucky places on the way from Oregon) for an amazing week of specialty beer tastings, beer and food pairings, and appearances by Woody, the giant beer barrel on wheels. Deschutes brewers, ambassadors and fanatics will be on hand to provide some in-the-trenches insight into our courageously crafted brews.
What is Base Camp you may ask? It's a place where Deschutes Brewery offers beer fanatics a spot to "pitch a tent" of sorts – and find their footing with the cornerstone ofMirror Pond Pale Ale. Deschutes Brewery Base Camp Week is a celebration of Mirror Pond's easy-drinking goodness, along with many more of the brewery's passion-heavy, pioneering brews. The Deschutes Brewery team is traveling around to cities all over the west this year, providing passionate fans with a seriously fun exploration of beer.  Make the trek to Base Camp.  It all begins here…
Check the event list below for Woody's appearance schedule or visit www.DBWoody.com. Also, be sure to follow him on Twitter: @dbwoody.
 You can also chime in and listen to the Base Camp chatter on Twitter using #BeerBaseCamp and by following @DeschutesBeer.
Event Overview:
Fargo, ND
St. Cloud, MN
Fri, 7/20 12-2pm             In Store Sampling with Deschutes (Westside Liquor) > Woody
Fri, 7/20 2:15-4:15          Base Camp Pint Promo (Boulder Tap House)
Fri, 7/20 4:30-6:30          Base Camp Pint Promo (G-Allen's)
Fri, 7/20 6:45-8:45          Base Camp Pint Promo (Old Capital Tavern)
Fri, 7/20 9-close              Base Camp Pint Night (Downtown St Cloud – various)
Minneapolis & St. Paul, MN
Sat, 7/21, 1-5pm             The Beer Dabbler Highland Fest (Hillcrest Park) > Woody
Sat, 7/21, post fest          Post Fest Special Anniversary Release (Tiffany Sports Lounge)
Sun, 7/22, 6pm                Base Camp Beer Dinner (Devil's Advocate) > Woody
Mon, 7/23, 6-8pm           Hats Off to Homebrewers (Northern Brewer) > Woody
Mon, 7/23, 9pm-close     Muddy Monday with Deschutes (Muddy Waters) > Woody
Tues, 7/24, 4-5pm           Deschutes Brewery University (Bryant Lake Theater)
Tues, 7/24, 5:30-8:30pm Beat-The-Brewer Bowling Tourney (Bryant Lake Bowl) > Woody
Tues, 7/24, 9pm-close     Post Bowling Beer & Bingo  (Liquor Lyle's)
Wed, 7/25, 6-8pm           Crafty Ladies Night (The Happy Gnome)
Wed, 7/25, 5-7pm           Cellared Beer Tasting & Meet The Brewer (The Wine Thief & Ale Jail) > Woody
Wed, 7/25, 9-11pm         The Little Tap Takeover That Could (Muddy Pig) > Woody
Thurs, 7/26, 12-5pm       It's 5 O'clock Somewhere (Kieran's Irish Pub) > Woody
Thurs, 7/26, 6-8pm         Cellared Beer Tasting & Meet the Brewer (Four Firkins)
Thurs, 7/26, 7-10pm       Beer-lesque: Tastings & Tassels (Amsterdam Bar and Hall) > Woody
Fri, 7/27, 11am-3pm       Base Camp at the Falls (Sea SaltEatery) > Woody
Fri, 7/27, 6-9pm              Build Your Own Beer Dinner (Cooks of Crocus Hill)
Fri, 7/27, 6-9pm              Tap Takeover & Woody Beer Garden (Billy's on Grand) > Woody
Sat, 7/28, 12-5pm           Butcher & the BEER Garden (Butcher & The Boar)
Sat, 7/28, 6-close            Deschutes Brewery Base Camp Finale (MacKenzie's) > Woody
For details on each event, please visit Deschutes Brewery's Base Camp web page atwww.deschutesbrewery.com/basecamp