Deschutes Brewery 2nd Annual Chef's Challenge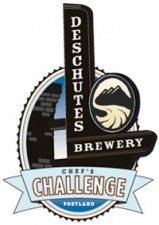 This is our second year of our wildly successful Iron Chef-style beer pairing competition featuring five chefs from Portland's top restaurants.
These talented culinary experts compete to prepare the best dish and beer pairing of the evening. A panel of celebrity judges will decide which combination is the tastiest and most artfully prepared.
A People's Choice Award will also be given. And it all benefits a terrific non-profit, Morrison Child & Family Services.
Where: Deschutes Brewery Portland Pub
When: Monday, Dec. 13th at 6:30pm
Competing Portland Chefs:
Kurt Spak, Alba Osteria
Ben Dyer, Laurelhurst Market and Ate-Oh-Ate
Adam Higgs, Acadia
Jeff Usinowicz, Deschutes Brewery Portland Pub
Scott Shampine, Davis Street Tavern
Dave Anderson, Genoa
Cast your votes with these Celebrity Judges:
Matt Zaffino from KGW
Margo True from Sunset Magazine
Leslie Cole from The Oregonian
Megan Flynn from Beer NW
Gary Fish, Founder of Deschutes Brewery
Tickets are just $75 per person and includes food, beverages & gratuities. With this spectacular event less than a week away, don't delay buying your tickets online.
To learn more about Morrison Child and Family Services, visit their website at www.morrisonkids.org