Black Tuesday On Draft Will Be Featured at This Years Stone's Pour It Black Fest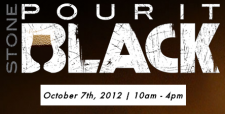 If you've ever longed for a beer festival featuring nothing but stouts and porters, then your wish has just come true. "Dr." Bill Sysak has rounded up over a hundred of the planet's best dark beers–imperial stouts, porters, maybe even a few black IPAs– for a day celebrating the world of flavors to be found in the blackest of brews. Join us at the newest member of our festival family and revel in the dark side!
A $45 Pour it Black ticket includes:
* A commemorative glass
* Fifteen 3oz tasters
* Dozens of amazing beers to choose from!
Click here to see the amazing lineup, one beer not on the list yet, but has been confirmed by Dr. Bill is  The Bruery's Black Tuesday Vintage 2011 on draft for the first time outside of The Bruery's locations!