Beer vs. Wine on national TV!
Sam Calagione, President and Founder of Delaware's own Dogfish Head, will be representing America's best-selling adult beverage on national television this Thursday. The sales of craft beer continue to rise and the international beer and food pairing trend is gaining momentum as evidenced by this high-profile taste-off.
Calagione has chosen to pair New Belgium's Mothership Wit with the Gruyere Reserve cheese and a half-decade-old Dogfish Head World Wide Stout with the Askinosie artisanal Chocolate. Craft breweries are proving that great beer has all of the flavor, complexity, and food-compatibility of the world's finest wines and deserves it's place at the dinner table.
The world's finest beers are more affordable than the world's finest wines, which is why the craft segment continues to thrive even in these challenging economic times. Dogfish Head's sales are up 41% thus far this year and the brewery focuses on stronger, more flavor, more exotic beers as their purpose statement "Off-centered ales for off-centered people" alludes to.
Beer is also more accessible than wine. Wine is made in a few isolated regions in the U.S. but the average American lives within 10 miles of their local brewery. So get out there and support the amazing, diverse, local, independent, small breweries that have reinvigorated the American beer landscape. For more info on Dogfish Head beers and Sam's books go to dogfish.com.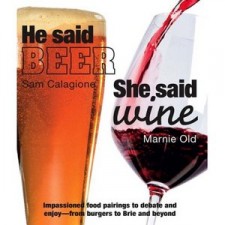 Don't miss Sam Calagione and Marnie Old, authors of He Said Beer, She Said Wine, on NBC's "The Today Show" this Thursday, 6/12 in the 10 o'clock hour!
Sam and Marnie will be taking their wine vs. beer debate to a national audience as they try to sway hosts Kathy Lee Gifford and Hoda Kotb with some delicious pairings!
For more information or to order He Said Beer, She Said Wine, visit http://us.dk.com/hesaidbeer. He Said Beer, She Said Wine is also available on Amazon.com and in bookstores nationwide.
Can't be by your television on Thursday? Visit http://today.msnbc.msn.com/id/12065856/ following the broadcast to see a complete video clip of the segment.
Also on Thursday, Sam and Marnie will be interviewed live on Martha Stewart Radio's "Everyday Food" with host Betsy Karetnick on SIRIUS 112. Tune in starting at 12:15 pm!
Cheers,
Mariah Calagione
Dogfish Head Craft Brewery
Dogfish Head Brewings & Eats
Off-centered ales for off-centered people.
Get the latest from Dogfish…. visit www.dogfish.com to sign up for our monthly newsletter!