Avery Brewing – Karma Ale Release Party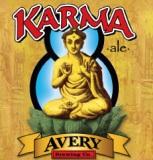 Featuring your favorite Avery Summer seasonal on tap and Boulder band Meniskus!
Stop by the AVERY TAP ROOM on Sunday April 5th and usher in longer days and warmer weather with some Karma Ale complimented by the rock nouveau sounds of Meniskus! We'll have Karma infused bratwurst and other food to fill your soul with some chi, in addition to a huge lineup of 12 different Avery brews on tap. Partygoers will get four beer tickets (each good for a 12oz. pour of Karma or another of our 6-Pack beers), bratwurst+sides and access to the Meniskus show all for $20.00.
Karma Release Party
AVERY TAP ROOM on Sunday, April 5th from 2-5 PM
$20.00 at the door (includes four 12oz. beers, food and music)