4th Annual Cincy Winter Beerfest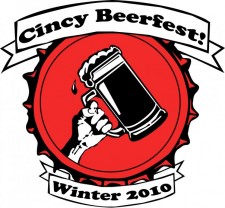 "When The Weather Outside Is Frightful….Grabbing a Craft Beer is So Delightful!"
You heard correctly, Cincinnati's Original Beerfest is heading to the Duke Energy Convention Center downtown. Thanks to your support, this event has outgrown every other venue in town and raised thousands to help get schoolchildren excited about playing musical instruments.
It's grown into "The Best Party Of The Winter" while celebrating Cincinnati's growing professional and home brewing community. You can feel the excitement building in Greater Cincinnati as evidenced by the scores of Beer Dinners, and other "beer focus" events. So we are taking the monstrous leap of faith once again, by taking over the Duke Energy Convention Center, including buying out the Concessionaire so that we can do the Beerfest our way….and with our knowledgeable Volunteers pouring the beer!
Each night there will be GRAND TASTING starting at 7:30p.m. and the party ends at 11:00pm each night. Tickets are just $30 In Advance/$40 Day Of. VIP ticket holders get inside at 6:30p.m and receive other benefits including a larger souvenir sampling glass. VIP Tickets are $40 In Advance/$50 At door but will probably sell out early.
Each attendee gets 25 sampling tickets with each good for one sample (approximately 4oz. pour in a 5oz. glass). This is purposefully more than enough because we want you to have enough tickets to not be worrying about each taste. This way, you'll feel comfortable trying that strange type of beer or flavor. Beerfest is where you can sample scores of beers that you might otherwise not try.
Our Beerfest is held in the spacious DUKE ENERGY CONVENTION CENTER at 525 Elm Street in downtown Cincinnati. We've booked one of the main Exhibition Halls, 60,000 square feet, so there will be plenty of room for all, and even some exciting new atrractions. We also are putting the knowledge we learned from our Columbus Winter Beerfest! on January 14-15 when 4600 came out for that Celebration of Craft Beer!
visit cincybeerfest.com for more info including the full beer list