What Jonny and Danny Fullpint Want For Christmas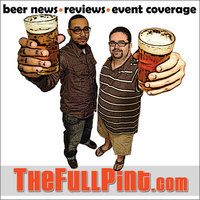 Read The Full Pint boy's Christmas wishlist for Beer Santa. Ho ho ho bitches.
Jonny Fullpint's Christmas List (Guy on the left)
Dear Beer Santa, You can always find me where great beer is being poured or wondering when the next one is headed my way.  Just in case I actually tricked anybody into thinking I was a good boy this year, here is a list of things I want to see under the tree.
Thanks,
Jonny Fullpint
A trip to GABF 2011
A Case of Ommegang Chocolate Indulgence
The festival pizza recipe from Pizza Port
A keg of  Barrel Aged Mickey's
Cans of MBC Black Pearl (coconut porter aged in rum barrels)
Danny Fullpint's Christmas List (Guy on the right)
Dear Beer Santa,
I've been blessed with good beer all year, I don't really need any more beer things this year, but you being beer santa, and me being good all year, I figured if you were in the neighborhood, you could drop off the following.
Merry Christmas,
Danny Fullpint
A keg of Saison DuBUFF
A case of fresh Hop Slam
A trip to New Glarus including massive session