The Midwest's Own Big Apple: A Review of Cider Summit Chicago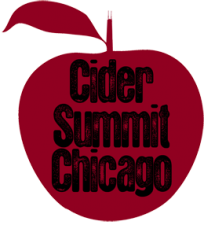 We present to you, a thoughtful recap of Cider Summit Chicago from our Chicago intern Rich.  If you are interested in an intership with The Full Pint, please follow this link. Cheers.
It's a feeling of disillusion and confusion. Did I use all my drink tickets already? How could I not have any more? I need to try this Ice Cider. Everyone is talking about it and as a "journalist" (I use that term rather loosely) I haven't tried it. No, for the sake of my journalistic integrity I must find a way; it was my duty after all. After several sessions of begging other patrons and one or two sleight-of-hand maneuvers later I was able to procure 3 tickets, one less than I needed. Blast, I'll have to make a go of it with what I have left. I put on my best "puppy dog" face and make my way over to Eden Ice Cider Company's table where I hastily broker a deal. 3 tickets, a button and some lint covered pocket change and my mission is complete. The taste of victory lingers as I strut out of Navy Pier and into the mild Chicago weather, and oh dear was it sweet.
This was the closing event for the annual cider conference, a multi-day conference for cideries from around the country to diverge on the windy city and discuss industry topics. In previous years the event had been held in the Pacific Northwest hubs of Seattle and Portland. This year, however, the event moved east to the Midwest. With over 25 tables and over 60 ciders this was the biggest summit to date.
I fully admit to my cynicism before I attended this event. Sure, I had a good cider once or twice, but can cider really have the expansive taste range as craft beer? Well, color me impressed. I was expecting an overflow of sweetness and what I got was the exact opposite. Granted there were sweet ciders but for the most part each cider had characteristics I would have never expected.  The cider receiving the most attention and generating a ton of " Oh God, yes" looks was Mitten by Virtue Cider. A cider aged in whiskey barrels that had me aching for more. In addition to that show stealing cider Virtue also offered Lapinette, a Norman-style cidre brut aged in French oak barrels. Delicious. Virtue Brands is a Chicago company whose owner, Greg Hall, was the brewmaster at Goose Island from 1991 until 2011. Hall is taking his immense amount of brewing experience and parlaying that into some fantastic ciders.
There were a bunch of other cideries pouring some really amazing and "out-there" stuff. But what surprised me the most wasn't the product; it was the amount of people that showed up to try the product. Alan Shapiro, who organized the summit, told me that they pre-sold 1100 tickets and expected another 300 people at the gate, far outselling the previous summits. Upon my departure (probably half way through the allotted time) the ballroom was mostly full and there was conservatively 50 people waiting in line. "We envision this evolving into the GABF of cider," said Shapiro.  With vendor participation growing from 85 last year to 220 this year the cider movement appears to be heading full-steam ahead towards achieving just that. Jeremy Kiddle and Jason Grazzanti, co-owners of Warwick Valley Winery & Distillery that produces Docs Hard Cider, elaborated on the growth of the industry, "Eight years ago when we started, if there was a summit, there might be 4 vendors and a hundred people," says Jason. "The industry has really taken off."
So cideries owe a lot of their success to the craft beer industry, right? I mean it's obvious the trajectory paralleled the craft beer boom. "Partially," said the guys at Warwick Valley, "We think it is similar to craft beer in that people are now appreciating artisanal and locally crafted drinks. There is a focus on supporting local business as well."
The great thing about the cider industry is that relatively speaking it's still in its infancy. Many vendors I talked to, like The Cider House of Wisconsin, started off on single acre farms just as a hobby. "The whole industry is new, people are using hops and Belgian yeast and whiskey barrels," says Jason, "everyone is experimenting because it's all really uncharted territory."
Count me among the advocates who fully support this exploration. I came into the event hesitant and walked away with a whole new appreciation for craft cider and the guys and gals who make put their heart and soul into it. I eagerly await next year's event and look forward to watching the industry evolve.