The Making of The Calm Before the Storm – WARCLOUD x J. Wakefield Collab
Barrel and Flow Fest 2021 is in the books. Our friend Alero from WARCLOUD Brewing wanted to capture the expereince of brewing a collab with famed Miami craft brewery, J. Wakefield Brewing. Read about Alero's experience collaborating with Wakefield and then serving it up at Barrel and Flow. Please stay tuned in upcoming weeks as The Full Pint tells the story and introduces the people, the brand and the beer known as WARCLOUD. – Cheers, Danny
 "No Sh*t there we were" is usually how most cool stories start. But… No sh*t there we were; en route from LAX to MIA. To paint the picture only seen in dreams. The flight in – We caught thunderstorms with lightning dancing around cumulus clouds, illuminating the skies. All of that with no turbulence. It was the calm before the storm we were about to get into! First time in Miami with the Warcloud crew. Ready to brew a beer for the largest African American beer festival in the world, Barrel and Flow Fest 2021!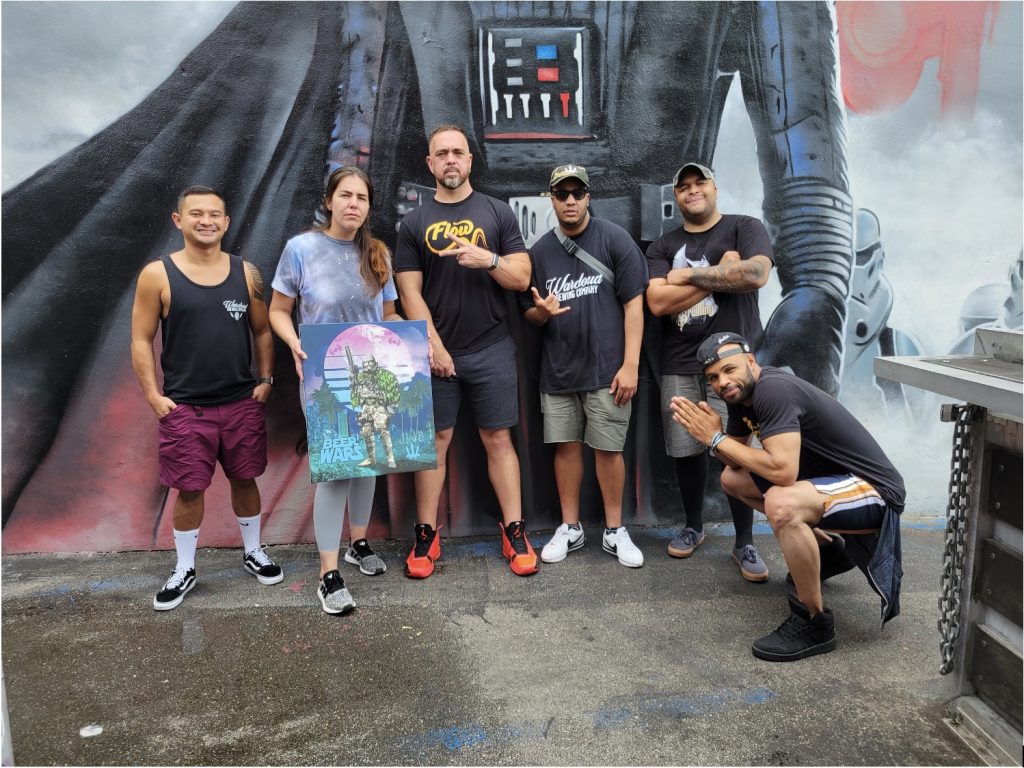 But let's rewind a bit. Completely random we had listened to the Full Pint podcast episode: 170 with Jonathan Wakefield. A few days later we conference-called with Day Bracey of the Barrel and Flow Fest. An opportunity to collaborate with JWB was on the table. This is what Warcloud calls an HVT or High Value Target. Someone to learn from and build resources with. Jonathan Wakefield hit us on comms and we talked about the beer recipe, and he said "let's not just do 1 beer but let's do 2!" …. "Whoa!? … For real?!" In addition to all that – Ironically we as a team started watching Startup on Netflix which takes place in Miami. That show right there helped us get a lay of the land, and it was dope! Planets started aligning, the universe started providing. 
So we landed at 0200 hours in the morning in Miami. Headed straight to the hotel in Biscayne bay, just minutes away from JWB in Wynwood. This hotel lobby alone was taking people out. Drunks rolled in like Zombies n' sh*t. A few rolled in on wheelchairs, one girl came in slumped and thrown over her boyfriend's shoulders. One dude came in smoking an imaginary cigarette then he made a b-line to throw up in the planter before hopping into an elevator. We were thinking "damn, this city takes people out." Afterparties went until 0500 hours in the morning, right there in that hotel lobby. We were camped up with them pulling an all-nighter, just people watching and waiting for check-in at noon. 
Moving on, brew day wasn't until Tuesday. Which left us 24 hours to explore. Figured out all of the exits, points of egress, walked the entire surrounding hotel area, planned all emergency contingencies. Place is already crazy and that's just how we get down with preparedness. We ended up mapping out a few cigar locations, Haitian restaurants, Cuban cafes, and breweries we wanted to hit. Dogfish head Miami was half a mile from JWB and there were a few breweries that big beer had bought out. So we explored all day dead tired that Monday. Came back to the 27th floor of the hotel and knocked out.
Next day it was time to recon. We were up at 0700 which is 0400 Pacific Standard time. Early mornings are nothing foreign to us. But holy moly that weather was wild. We couldn't figure it out. We Uber'd to JWB in Wynwood 7 minutes away. Already the JWB was at work. Most in shorts and boots. A well built crew. We ran into Maria Cabre first. Former Head Brewer, GM, and total rockstar. It wasn't even our brew day but we were there to learn. We sat down with Maria to talk; concepts, ideas, thought process, and what's happening in the craft beer world. That lasted a few hours in their taproom that already had the AC on full blast. The walls were lined with collector comic book art and graffiti murals just like the rest of the city. Warcloud was in heaven, we geeked the f*ck out. 
Around 1030 hours Big Jon Wakefield rolled in pushing this sick exotic car. Dude is larger than life itself. Former college offensive line football player turned brewer. He started at Cigar City and went to Stone for a bit, then started his own. Jon showed mad love right from the jump. We sat down with him for a few more hours, chopping it up. We had briefly spoke on the phone about concept and recipe. But we expanded and built upon theory and methods of approach to the industry. Pretty incredible insight. We talked about flagship and brewing 60bbls+ a month for his two beers each. We talked about strengths, weaknesses, opportunities, threats to his business and forecasted them to ours. Ideas about barrel aging programs which for JWB; was housed in a warehouse right across the street from the brewery. Big Jon shed light on his  philosophies pertaining to caramelizing wort while brewing stouts, to pitching lacto for sours. Big Jon also sketched schematics and showed us his inventions for fruit dosing and dry hopping. Cool sh*t that would revolutionize anyone's game. We were fascinated by the beer and what was on the menu, it was aligned with what we were brewing. Sours, stouts, IPAs, and a few crushables. We realized over a short time that there were like two other breweries in town waiting to collaborate with them as well. Thinking damn, "wonder if collaborating that much keeps rejuvenating such a great spectrum of community?" "Does Big Jon Wakefield and Maria Cabre spread knowledge and methodology to them too?" Super cool and consummate pros when you think about it. They're building the sport of craft beer!
It was brew day- In the brewhouse it was a hammer house. How we had envisioned the Warcloud at our future location. All business, everyone in their mid 20's to mid 30's on the age spectrum. Everyone had a job to do. The genetic make up in the brewhouse was 3 operating the brewhouse itself strictly brewing and 3 operating the cellarman and packaging side. We jumped right in! The Jacks of all trades there were Taylor (head cellarman) and Theo (head brewer at the time) they too were a wealth of knowledge. They shared things they had learned from Jon and Maria but also shared what they'd learned from the industry and those they collaborated with in the past. We got our hands on brewing manually training and working a canning line experience for the next few days. One thing to note, when in Miami hydrate; because we were drenched in sweat and barely moving a f*cking muscle. 
Every day we got 3 to 4 hours of sleep. We raged and partied all night, painted walls, slapped stickers, and caught tags all over Miami. 
We spent the majority of our nights in Little Havana at Top Cigars right there off of 8th street smoking fine Cuban cigars, drinking free Cuban rum, supplemented by a JWB flagship coconut witbeir El Jefe, and shots of coladas Cuban coffee. Dress and chill like the locals. Furthermore if you want to feel on cloud 9, drink those three in unison and smoke a house blend Cuban cigar. Insane, and we highly recommend that insanity for a good time! 
So the beer had been brewed, now it came down to the artwork. We sat down and knowing our audience for the Barrel and Flow fest. We wanted that Jacky Brown female superhero feel for a Peach Cobbler Sour. There was heavy Storm influence inside and outside of the brewery. From torrential downpours to the point we thought we'd have to go to Wal Mart to buy a windbreaker anorak, to the artwork of X-Men's best character Storm paintings on the wall. Oya is true folklore in ancient Africa. A war goddess that controlled the rain, wind, storms, and clouds. Alero of the Warcloud designed the artwork you see below. 
We are grateful for the opportunity given to us by Day Bracey, Libby Borchert, and Meghan Packard. They all made this happen for the Warcloud. Definitely a trip of a lifetime. The beer will be available via the TAVOUR app which has jurisdiction in 25+ states. We rocked the booth Saturday September 11th 2021! Barrel and Flow Fest was epic. We met incredible folks, put miles on our feet, and took many years off of our livers and kidneys. Spent most of our time with the Dancing Gnome and Eleventh Hour crews. Crashed the Pittsburgh Beer Guilds monthly meeting and celebrated a GABF win with the Cinderlands crew. Got to run with our Cali and Texas fam per usual. More to come!