Rare Beer Roundup: KBS, Veritas 013, Upright White Truffle Gose and More!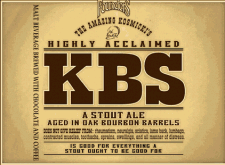 Ahh Spring – when a young man's fancy turns to thoughts of…beer. As many areas of the country slowly limp out of one of the most mind-bogglingly painful winters of all time, the hop flowers are blooming in our brains as we begin to dream of Berliner Weisse, Gose, Session IPAs (whatever those are) and other cooling forms of sudsy refreshment. April has been a busy one again, with The Lost Abbey, Founders, De Garde, FiftyFifty and more leading the pack.
The month started off with everyone's favorite (or most hated if you're a retailer) annual release – Founders KBS. This coffee-infused imperial stout aged in bourbon barrels for 1 year does strange things to people, as if it possessed a Lord of the Rings-esque hypnotic power. From chasing down delivery trucks to contacting the local liquor store until they threaten a restraining order, nearly the whole damn country lost their minds on April 1st as cases began to land from coast to coast. Delicious it is, but the end all of barrel-aging it is not. Until next year (or the next tapping at a local bar), Kentucky Breakfast Stout.
The Lost Abbey prides themselves on a variety of barrel-aging techniques, ranging from sours in French oak to 'strong ales' in tequlia barrels and everything in between. Their Veritas series is a limited run of one-off beers, typically made in extremely low quantities and released at the brewery in San Marcos. Veritas 013 brought the hordes out in droves to…the internet. Despite a handful of hiccups with online sales (::cough Duck Duck Gooze cough::), the brewery sold reservations for their latest installment in the series on their website, with allocations only lasting mere minutes. The reason? 013 is an American sour ale aged in French oak barrels for nearly 2 years with honey, peaches and nectarines (::drool::). Go ahead and throw your hat in the trading ring for this one – but be warned of the $40 price point.
What once was a style nearly wiped off the face of the earth has been surging up trader's wants lists the past couple years. Gose (say it with me now, 'Gose-uh') is a traditional unfiltered German wheat ale brewed with salt, known for being crisp, slightly tart and low in alcohol, ideal for the spring and summer months. Portland's Upright Brewing twisted up their take on the style this month with the bottled release of White Truffle Gose. After fermenting the beer with their French saison yeast, brewers added 5 pounds of white truffles (money, money, monayyyy) "to add subtle aromas and flavors that go well with the light tartness and saltiness of the beer." Only 89 cases produced of this baby, so don't sleep.
Sticking with the Oregon theme – De Garde and Block 15 both killed it already in April, dropping bottles at their breweries in Tillamook and Corvallis, respectively. More sours came raging out of oak barrels at De Garde, featuring Brun Marron (a sour brown ale) and Imperial Hop Bu (a barrel-aged, dry-hopped double Berliner Weisse). Block 15 broke it down Willy Wonka style with Snozzberry, a wild ale aged in French oak for 500 days with freshly picked snozzberries. Only 38 cases exist of that sucker so it might take some doing to unearth an Oregon trader with a spare.
If you've been following the calendar, your eyes and ears might have perked up at the sight of FiftyFifty 2014 Eclipse Futures. Each year the brewery gives people a chance to order their bottles of Eclipse Imperial Stout in advance at a discounted price, requiring everyone to pay half up front, and the rest when the bottles are actually ready (usually in November). A unique variety of barrel treatments are done each year, ranging everywhere from bottom shelf handles like Heaven Hill to lofty booze unicorns such as the intrepid Pappy Van Winkle. The 2014 batch also included 3 exclusive Futures-only bottles (which all sold out in under and hour) – High West Single Malt, Vanilla-Coffee Blend and Spanish 30-Year Rum. The regular varietals will hit distribution, so look forward to sampling some of the barrely beauties in around 7 months or so.
It's been a little while since we've heard anything of the 'ZOMG rare' variety from New York's Ithaca Beer Co – until they unleashed Luminous Golden Wild Ale in mid-April. Reminiscent of the days of Brute and LeBleu, this is a sour ale brewed with wheat and aged New York hops, fermented for over 1 year. Less than 100 cases were produced and sold through quickly – but pictures of more oak barrels on their Facebook feed gives me hope we'll see some more wild n' funky stuff from these guys down the road.
Nick Alfonse is a writer living in the Philadelphia area. Follow him on Twitter @BeerServedRare.