Rare Beer Roundup: Avery, Hill Farmstead, Night Shift, Oakshire + Alchemist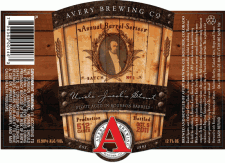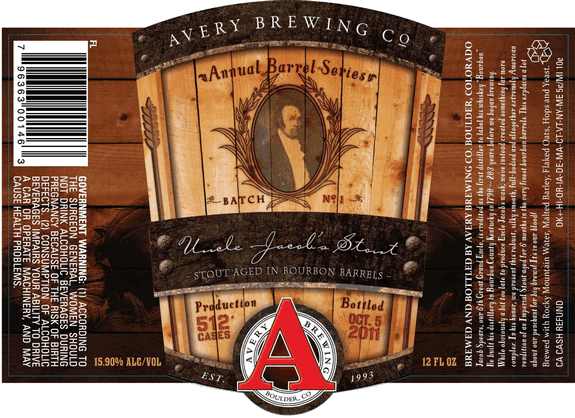 February continues to be a jam-packed month for limited craft beer releases, with some familiar faces and brand new gems hitting the scene last week. Russian River Pliny the Younger continued to draw hordes of people to their Santa Rosa pub, while Night Shift and River North both rang in their 2nd anniversaries with limited bottles. That's just the start – let's get sudsy.
The 3rd batch of Avery Uncle Jacob's Stout launched at the brewery in Boulder on Sunday, February 9, allowing all the stout-obsessed Coloradans another crack at this luscious, boozy beast. Despite boasting an ABV that floats between 14-18% (14.83% ABV in 2014), this beer is known for maintaining a decedent balance between intense barrel character and rich, sweet malts. Limits were fairly high for the event, set at one case (24) of 12oz bottles per person, although you'd have to be willing to drop $288 on a case of beer to max out. Avery also unloaded a handful of limited and taproom only draft selections, including Tweak, their 14% ABV espresso-infused Belgian imperial stout (which is also rumored to be bottled at some point). Not in Boulder? Uncle Jacob's will hit limited distro, with 713 cases produced this year.
Had enough Hill Farmstead news? Yea, I didn't think so. Last week saw another new barrel-aged bottle hit the retail shop shelf, as Daybreak returned on Wednesday, February 12. The 2nd batch of this barrel-aged imperial stout was brewed with citrus and aged in orange liqueur barrels (Grand Marnier perhaps?). As if this wasn't enough to draw you out into the gorgeous, snow-covered Vermont wilderness, the latest batch of the rustic farmhouse ale, Arthur also landed (at a case limit too!).
Night Shift Brewing swiftly made a name for themselves by producing an impressive amount of wild ales, barrel-aged beers and tart, fruited Berliner Weisses since opening their doors 2 years ago. Last week they celebrated their anniversary the only way brewers of their ilk can – by releasing a pair of super limited beers. After digging through their barrel collection, Night Shift hand-picked their 2 favorite brandy barrels and bottled each one as a single batch, 200-count release. Valentino, the red wild ale with rye was joined by Valentina, a golden wild ale, as they both were unveiled at the brewery in Everett. If you've got a hankering for some Night Shift action, don't worry – their 2014 Sour Futures program begins at the end of this month.
Oakshire Brewing in Eugene added a little twist to their annual February Hellshire release by turning the event into a full blown beer fest. The first annual Hellshire Day featured over 50 barrel-aged beers from around the country, the debut of Hellshire IV in bottles, and special commemorative teku glassware for the occasion – basically a beer nerd's dream. With Block 15, Crooked Stave, Deschutes, Logsdon, Perennial, Surly, Three Floyds and a ton of others on the list, you're probably already getting those jealous feels. For the uninitiated, each release in the series is a new barrel-aged creation aged in bourbon, whiskey or brandy barrels. Hellshire IV was a diabolical blend of 3 unique beers aged in bourbon and brandy barrels, resulting in "something akin to an old ale or barleywine" according to Brew Master Matt Van Wyk.
You've asked, you've pleaded, you've tweeted them inappropriate pictures about it and yes, finally – The Alchemist released 2 brand new beers on Saturday, February 15. Sure, who doesn't enjoy them some Heady Topper, but the country has clamored for something new, which came to us in the form of an American IPA hopped with Citra and Mosiac, Focal Banger, followed by a 100% Brett fermented ale with cherries, Petit Mutant. Since the brewery doesn't have a proper retail location, the release went down at an old lumber site by a train station in Waterbury. Despite the brewery asking people not to show up before 9am, reportedly over 100 attendees were at the site already, with the line growing in excess of 300 or more by the time sales began at 11am. Needless to say, more than a few left with less than they expected, with 220 cases of Focal Banger and 160 of Petit Mutant being sold at a limit of 1 case per person.
Nick Alfonse is a writer living in the Philadelphia area. Follow him on Twitter @BeerServedRare.