Philly Beer Week Turns Ten
Philly Beer Week is an annual beer bacchanal in the City of Brotherly Love, a concept which has inspired nearly 80 similar revelries around the nation since it was created in 2008. It is a ten-day party…except when it isn't, wich will be the case  in 2017. For reasons that remain unclear, while the official dates for PBW's tenth anniversary are Friday, June 2 through Sunday June 11, the two major events that kick things off every year will occur on June 1. First comes the Hammer of Glory Relay, transporting a hand-forged keg hammer on a day-long journey to visit some 40 venues (breweries and restaurants) via various creative means while cheering crowds line the route and join in parade.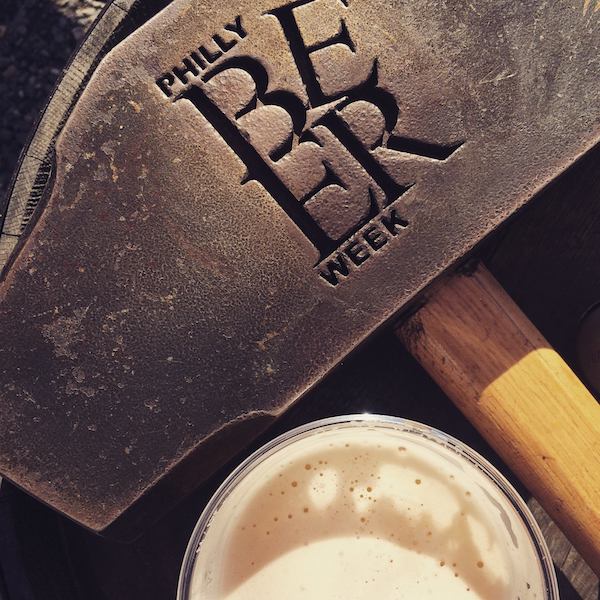 The "finish line" is the site of Opening Tap, which this year will be held at The Filmore music club (yes, named for the San Francisco original) where PBW will officially begin with the tapping of a firkin of Brotherly Suds 2017. Brotherly Suds is an annual collaborative beer done by local brewers for PBW. This year's breweries were Tröegs, Victory, Yards, Sly Fox, Stoudts, Iron Hill, and Flying Fish; the beer is described as a "Pennsylvania Dunkel Weiss." Another collaborative beer which debuts at Opening Tap each year is brewed in Belgium. A raffle is held every November in which ticket purchase write the name of a favorite local brewer as well as their on purchased tickets. The winning ticket drawn earns the owner and the brewer a trip to Belgium where the latter brews with Belgian brewers. The 2017 beer, Gravity Never Fails, is a porter done with experimental hops and was brewed by Bob Barrar, founding brewer at  2SP Brewing in the Philadelphia suburbs, and brewers at Brouwerij De Ranke.
There will be other collaborations, of course; brewers like nothing better than getting together with their peers and, well, brewing. One that might get a lot of attention this year is the annual beer done for The Standard Tap, the city's famed all-draft, only-local watering hole, by Sly Fox. The 2017 version is Northern Liberties Standard Lager, brewed using notes from the 1920 brewing notebook of the father of Bill Moeller, a fourth generation brewer who was part of the team at age 91. In an era where The Next Big Thing is usually the Holy Grail of beerdom, perhaps a taste of history will have its own special appeal.
Social media is a vital tool for any beer week but especially for this one, which was not only the first but is also the largest. The PBW website, http://phillylovesbeer.org/, should contain all the information participants need and allow for preparing an itinerary for each day or evening (a free PBW app is available for downloading at Google Play). Philly is a city of neighborhoods, so take advantage of that by laying out routes to visit specific locations within a defined geographic area. The mental health  way to approach, or survive, an event of this scope is to recognize going in that it is impossible to get to every event and to accept that. There will be a lot of great beer pouring all over the city. Stephen Stills had it right: "if you can't be with the one you love, love the one you're with." Also, water. Drink a lot of it and bring your own if you can to save time and money.
Some quick tips, especially for out-of-towners. Visit the internationally famous Monk's Cafe at least once to check out its amazing Belgian selection (go the back bar if you can get in), and to the aforementioned Standard Tap for its variety of all-local brews. Visit the taproom at Saint Benjamin's Brewing in the Kensington section of the city; they sold their first ever keg at Opening Tap 2014 and this year became the first ever brewery to post a double win in an annual beer tasting by industry folk conducted by the food critic at the Philadelphia Inquirer. And stop by McGillin's Olde Ale House, hidden away on Drury St. in center city. It opened in 1860, the year Lincoln became President, and is  the oldest continuously operating tavern in Philadelphia.