Jesse's California Beer-cation Part 2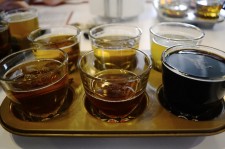 Our Arizona intern Jesse shares with us, the second part of his California Beer-Cation, a young mans journey through the dozens of amazing craft breweries in Southern California.  Follow the link below to read part 1. Cheers!
After day one brought amazing beer from Alpine, Societe, Stone and the like, I was extremely excited to see what else San Diego had to offer. We woke up a little groggy, which was to be expected after a full day of drinking full-bodied beers. Getting out of the hotel was somewhat chaotic, what with all of us waking up 30 minutes before check-out time and all still desperately needing a shower.
(To recap, the group consisted of myself, Jesse, my neighbors Connor, Cameron and Chris, as well as Connor's cousin Phil, who is from West Virginia. Connor, Chris and I geek out hard on beer, while Cameron as less fervor yet adequate appreciation. Phil knew practically nothing about craft beer at the beginning of the trip.)
We checked out and started loading up the car, including all the beer we had bought at Distiller's Outlet (highly recommended!) in Poway, north of San Diego, as well as beers and growlers bought from the breweries themselves. Probably about two cases total, one in the cooler, and one in a box that was being loaded into the car by Chris.
I was in the front of the car cleaning out trash, at which point I heard a large crash consisting of breaking glass followed by terrified cursing. The handles of the box (that contained half of our purchased beer) had ripped off completely clean and the box had fell a full three feet straight down onto the parking lot asphalt with devastating force. My heart sank to the ground, seeing as I heard breaking glass and the box contained such beers as Goose Island Bourbon County Coffee Stout and Mikkeller Beer Geek Brunch Weasel Calvados Barrel Edition, as well as many more.
If you read the last edition of this story, I mentioned that Phil, the member of the group that didn't know much about craft beer, had brought two beers from Arizona that were not too exciting that no one really wanted. These beers were also in the box that had fallen to the ground.
Obviously the beer gods were smiling on us that day because while two beers did break, oozing foamy liquid all over the parking lot, we discovered that they were both the beers that Phil had brought, and no one's heart was truly broken. All the beer we had bought in San Diego so far was completely intact, amazingly. Cheers to those fallen beers soldiers and their honorable sacrifice, allowing the more rare and flavorful beers to continue on and spread their deliciousness.
We first headed back to Stone Brewing to catch a tour, but to our dismay all the tours for the entire day were booked, even though we arrived at noon. This was because it was a particularly busy day at Stone Brewing, as it was the 2013 Stone Homebrew Competition & AHA Rally. In the end a Coconut IPA brewed by Robert Masterson and Ryan Reschan won the competition. So congratulations guys, at least someone got what they came for that day.
After having a few beers and raiding the Stone Company Store (fanstastic!) we embarked to Stone's old stomping grounds in San Marcos, Lost Abbey/ Port Brewing Company.
Lost Abbey/Port has a great space, very open, complete with a tranquil barrel room. It's cool to look at all the various barrels as they are all labeled. It causes you to try predicting your beer future, and wonder if you'll ever have any of the beers in the those barrels.  Cuvee de Tomme was fantastically sour with great cherry flavors, and probably the best beer we had there. Board Meeting Brown, Shark Attack Double Red, Serpent's Stout and Hop 15 were all treats to have on tap. I have to mention the amazing pulled pork grilled cheese sandwich I had from the food truck outside the brewery, Slow Cal BBQ; definitely keep an eye out for that truck. All in all, Lost Abbey/Port makes a ton of great beers and have a great atmosphere. Oh, I also saw a pristine DeLorean outside of Lost Abbey. It was heavy.
At this point, after leaving Lost Abbey, the trip moved to unknown territory. For the most part, every place that we had went to so far was guaranteed to be worthwhile. But our plan for the rest of the day wasn't much of a plan, and we found ourselves going to a few different breweries unknown to us. First up was Mother Earth Brew Co.
Mother Earth makes some really great IPA's, and the city of Vista where it's located has a really awesome vibe to it. We even found a Stone Enjoy By 04.01.13, which we hadn't seen anywhere, in a small liquor store in Vista. It was a great surprise. Mother Earth is definitely a proper candidate for a stop on any beer trip, with very fresh west coast IPAs in abundance. This is where we started getting gypsy, because we called an audible and took advice from the fine people at Mother Earth and headed to the nearby Latitude 33 Brewing Company, a place none of us had heard of.
We showed up to Latitude 33 ten minutes before closing, so we had to drink fast, and I imagine it would have been much more enjoyable if we'd had more time. Still, their Coconuts on Rye Stout sticks out in my mind like a sore thumb, as it was very delicious and struck me a particularly unique. Taking more advice from the locals, the bartender at Latitude 33 sent us to yet another near-by brewery, Belching Beaver.
Belching Beaver was awesome, as the staff was some of the nicest people we had encountered on the trip. One of the owners gladly privately walked our group around the brewing facility, answering any questions we had. They also have these awesome growlers that resemble massive Nalgene bottles, except not clear, of course. Also, one of the attractive ladies behind the bar seemed to take a liking to Connor, which sure as hell put him in a good mood.
Belching Beaver had a great double IPA called Dam Double, as well as a intriguing chardonnay barrel-aged saison. However, I think by that time we were all fairly drunk and very hungry, so we headed to Churchill's Pub and Grille, one of the most fantastic bar and restaurants I have been to in San Diego.
While their tap list is very impressive and we had a a few gems (such as Chruchill's Ten IPA from Bear Republic Brewing Co.) we were really there for Churchill's Finest Hour Imperial Stout from Port Brewing. They were out of 2011, but having any at all is a real opportunity, and we scored a bottle of 2012. This beer is brewed specifically for Churchill's, and you would never know it was brewed by Port Brewing without looking at it very close, as the design doesn't resemble Port at all.
The stout is a blend of various Port/Lost Abbey barrel aged stouts, which results in a slightly different beer each year. Sometimes a beer is too good to describe, because words don't exist to do it justice. I believe Finest Hour is one of those beers. It was just so good, I didn't know what to say. This beer isn't necessarily hard to get your hands on, as Churchill's seems to always have it, you just have to make the trip. Worth it.
Chris, our DD, then realized that after Finest Hour the group was practically asleep face-first into our food, and decided it was time to call it a night. We piled our woozy bodies into the car and headed to Chris' parents house in Murrieta, which is near Temecula.
Considering Chris hadn't drank the entire day, and that we slept the entire way to Murrieta, we were all ready for another beer by the time we settled in his house. So, amazingly enough, we mustered up the desire to go to one of Chris' friends apartment and kill a growler of The Pupil IPA from Societe Brewing that we had picked up the day before.
Delicious, yet my memory of it is in a drunken fog, and I remember thinking more about how weird it was that the friend's mother was sitting on the couch of this apartment, seemingly ignoring the drinking and smoking taking place right in front of her. Good thing I had that beer at the brewery itself, and was able to truly enjoy it then.
With another day jam packed full of beer on the books, we were forced to say farewell to the beer Mecca that is San Diego. I thoroughly enjoy every minute I spend in San Diego, and I highly recommend the area to anyone curious about drinking world-class beer. We crashed out hard back at Chris' house with future visions of Los Angeles beer and beyond. Two days down.
Click here for part 1 of Jesse's California Beer-cation