Houston Beer Week 2012 – Recap of The Weeks Festivities and Draft Festival Pics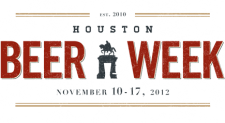 Our Houston Intern Andy just finished up Houston Beer Week 2012. Here are some highlights from the weeks festivities including The Draft Festival, with pictures. Hope you enjoy. If you would be interested in an internship at The Full Pint, please follow this link.
I'm sad to report the conclusion of Houston Beer Week 2012, but I am happy with the results. Although I didn't make it out to the volume of events I would have liked, I definitely enjoyed the beer that did make it into my belly. Highlights include:
-A free tasting from 8th Wonder Brewing (follow their progress: 8thwonderbrewery.com), Houston's newest craft brewery. 8th Wonder finally debuted their beers to the general public, and from what I can tell, they were received with open arms. Many local bars and restaurants featured 8th Wonder brews during beer week, with brewery reps on hand to answer any and all questions. While the three that I sampled – an alt, rauch, and IPA – didn't blow me away, each was loaded with flavor and easy drinking.
-(512) Pecan Porter variations at Petrol Station. In delicious cask form, Petrol showcased three rare Pecan Porter brews – one with raspberry and cacao, one with coconut, and the cafe au lait, a coffee-forward variation that I had a chance to try recently at the (512) anniversary party and really enjoyed.
-Finally, I wrapped up the week by attending The Draft, a huge for-charity craft beer event in downtown Houston. The Draft has been running successfully for a few years, previously under the title Monsters of Beer. All proceeds from the festival went to Friday Harbour (fridayharbour.org), an aid for cancer patients and their families, and Stepping Stones Elementary (steppingstoneselementary.org), who describe themselves as "a public school that feels like a private school."
More than 30 breweries attended the festival and sampled out some oldies and some goodies. As I've come to expect, the local goodies delivered. Karbach's Bourbon Barrel Hellfighter Porter was a little heavy on bourbon and light on porter, but still worth the taste. Buffalo Bayou showed up with a fantastic seasonal – a whiskey barrel aged gingerbread stout. The whiskey flavors provided nice undertones to the creamy gingerbread. I was especially surprised to see Saint Arnold pouring their Bishop's Barrel #1, a barrel aged Russian imperial stout that stands as the first in a very limited series.
While it's hard not to continue loving on the bigger beers available, a few others stood out as well. As usual, Sierra Nevada's Celebration Ale delivered delicious and intense fresh hop flavors. Stone poured ample amounts of the citrusy DDHSSR, and Avery showed their love with Ale to the Chief! All in all, the beer selection was great and varied, with a nice mix of core and harder to find (in the Lonestar State) beers. Even more importantly, the lines were pleasantly short – I never waited more than a minute for a pour.
Of course, to balance the seemingly never-ending beer pours, there must be food. The eats were sadly underwhelming, but when you're focused more on high quality beer, food is food. Several local favorites manned booths hidden between the more prominent beer stands, including Antone's Famous Po'Boys. And El Hidalguense. Large picnic tables were conveniently located next to the food and provided a comfortable seat while quickly scarfing down food and idly listening to the band on stage.
As The Draft began to wind down and I made my way toward the exit, I noticed how great of a location Guadalupe Plaza Park was – large, open, grassy. It made a nice host for the festival, and I hope to see it used more often in craft beer events. It's going to be another long year until Houston Beer Week returns, but with the craft beer movement's growth in the city showing zero signs of slowing, I'm sure it will be an exciting and event-filled wait.