Chicago Craft Beer Bar Guide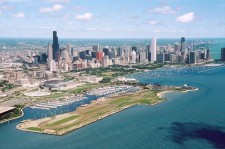 Here at The Full Pint, we always encourage reader submited articles, editorials, columns, tasting notes and blogs. Here is a wonderful guide to the Chicago beer bar scene from the perspective of our reader Tim M.  Tim is a freelance writer, avid home brewer and craft beer enthusiast residing in Chicago, IL. Feel free to leave Tim some feedback in the comment section. Cheers!
The city of Chicago has a plethora of great craft beer bars. While I can't say I have visited every beer destination in the city, here are a few of my favorite places to have a few pints.
The Hopleaf
Named after a Maltese beer, the Hopleaf has been serving up a solid selection of craft beer since 1992. Located on Chicago's North Side in the Andersonville neighborhood, the Hopleaf boasts an impressive beer list including 325 bottles and 45 draft choices. The bar stocks quite a few of Belgian-style ales, such as Van Honsebrouck's Gueuze Fond Tradition, or Chicago's own Goose Island's Matilda. The Hopleaf has an extensive food menu as well, and is most well known for their delicious streamed mussels. In the warmer months patrons can enjoy a beer in the Hopleaf's beer garden, which is accessible through the dining room. The Hopleaf has beecome so popular that owners Michael Roper and Louise Molnar will launch an expansion next door including a larger kitchen, more seating, and 20 new taps.
5148 N. Clark St. 773-334-985 www.hopleaf.com
The Map Room
The Map Room is a Belgian-themed bar with a wide variety of imports and domestic beers, available both on tap and in a wide-ranging bottle inventory. The décor of this self- proclaimed travelers' bar includes a ceiling hung with flags and bookshelves full of old issues of National Geographic. Jay Jankowski, the bar's manager and certified cicerone keeps the beer flowing with a lengthy beer list including 26 draft options and nearly 150 bottled varieties.
1949 N. Hoyne Ave. 773-252-7636 www.maproom.com 
Sheffield's
Located on the North Side of Chicago in the Lakeview neighborhood, owners Rocky Albazi and the late Ric Hess purchased the bar back in 1992, and it has been a great Chicago beer destination ever since. Sheffield's pours a delicious variety of brews from 50 taps, including one cask option and six taps devoted to the beer garden. Located a stones throw from Wrigley Field; Sheffield's provides a relaxed atmosphere where you can enjoy great craft beer. In addition to their great beer offerings, Sheffield's is also known for their in-house smoked barbecue. The bar also offers growler fills of their beer of the month for $14, plus a $6 deposit.
3258 N. Sheffield Ave. 773-281-4989 www.sheffieldschicago.com 
Fountainhead
Having open it's doors in May 2010, the Fountainhead is still a somewhat new addition to the craft beer bar scene in Chicago. But by mixing great food with great beer, the Fountainhead has quickly become a hot spot for beer lovers throughout Chicago. Fountainhead can be found at the corner of Montrose and Damen Ave. in the Ravenswood neighborhood, where beer director Phil Kuhl serves up 27 tap options and 100+ bottle choices. Fountainhead often hosts beer and food pairings, such as the recent "Great Punk'n Party", which included pumpkin inspired dishes paired with Southern Tier PumKing and Uinta Punk'n ales served straight out of two massive pumpkins.
1970 W. Montrose Ave. 773-697-8204 www.fountainheadchicago.com 
The Publican
This West Loop gastropub might be best known for their farmhouse-inspired fare, but they have an excellent beer selection as well. Chef and co-owner Paul Kahan puts a heavy emphasis on the Publican's selection of both Trappist ales and Flemish reds, which pair excellently with a variety of the plates offered. The interior is marked by long rows of tables and high ceilings, which I find to be an attractive touch. The extensive international beer list, developed by partners Eduard Seitan and Terry Alexander, features 100+ ales, lagers, stouts and ciders by the bottle, 12 of which are available on tap. Every member of the wait staff is required to pass the first level of the cicerone certification program, so you can rest assured you are getting great service.
837 W. Fulton Market 312-733-9555 www.thepublicanrestaurant.com