CBC 2012: Opening Ceremonies Highlight Growth and Sustainability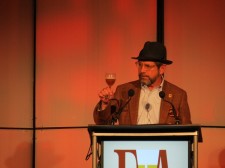 Sustainability and growth were the major themes of the opening general session at yesterday's Craft Brewers Conference taking place in San Diego,CA.  A crowd of over 4,000 brewers, media, and beer industry professionals started their morning with opening statements from Brewers Association President Charlie Papazian and all-star speaker list to celebrate the craft beer community. In the past year, the craft beer industry has reached many milestones from the number of brewery openings to an overall increase in sales all across the board.
The opening ceremonies also featured guest appearances from San Diego Mayor Jerry Sanders and Congressman Peter DeFazio from Oregon; both of whom heralded the success and the potential impact that craft beer could make on rebuilding the economy as well as many other aspects that trouble today's America. From the relationship between legislation that can help rebuild and strengthen our transit system and how this affects shipping and distribution, to the creation of jobs and bills that could provide tax credits– their support of craft beer was genuine and deeply rooted and was well received.
Elysian Brewing's Dick Cantwell was in charge of presenting the winners of this year's Brewers Association Awards. The winners were as follows:
2012 Russell Scherer Award for Innovation in Craft Brewing: James Ottolini from St. Louis Brewery, Inc.
2012 Brewers Association Recognition Award: Corkie Odell, Doug Odell, and Wynne Odell from Odell Brewing Co.
2012 F.X. Matt Defense of the Small Brewing Industry Award: Tom McCormick from the California Craft Brewers Association
Brewers Association Director Paul Gatza gave the State of the Craft Brewing Industry speech which highlighted trends in sales, marketing, and overall growth of the industry in the past year. He also compiled data on craft beer marketing trends including the increase in farm-to-table relationships between brewpub owners and local farmers and the rise of nanobreweries (which became a light-hearted gag throughout the day). Craft Beer Program Director Julia Herz said a few enthusiastic words regarding community and American Craft Beer Week and Dogfish Head's Sam Calagione remarked about home brewers and introduced keynote speaker Steve Hindy of Brooklyn Brewery.
Hindy stepped up to the podium donning a rather fashionable fedora which he used to symbolize the "brewers hat." His keynote speech was impassioned and a heck of a lot funnier than most other conferences we have been to in years past. Jokes aside however, Hindy's speech spoke of the power of marketing and of community. He emphasized the importance of being involved in local and federal government and gave an inspiring insight on purity and involvement. Recordings of the conference will be available on the CBC website.
Noteworthy one-liners: 
"The future is only sustainable with continued innovation"- Charlie Papazian
"We want to get brewers out of garages and into taprooms."- Mayor Jerry Sanders
"Wow, so there is a place in America where a member of Congress won't get boo'd and get a round of applause!"- Congressman Peter DeFazio
"Beer is one of the only bi-partisan things in D.C."- Congressman Peter DeFazio
"Every day, craft brewers touch millions of lives in a positive way."- Steve Hindy
" I want you all to take a look at this man. He used to be a journalist, now he makes an honest living." – Steve Hindy [Paraphrasing Mayor Rudy Giuliani]
"We don't need no stinkin' FMBs (Fermented Malt Beverages). We don't need cider either, but that's just my opinion." –Steve Hindy