The Bosses Behind Boss Tycoon
It is hard to believe how many powerhouse collaborations John Wakefield of J. Wakefield Brewing and Kyle Harrop of Horus Aged Ales did in 2017. The two brewers are the collaboration juggernauts of the craft beer industry with everything they touch turning to liquid gold, especially stouts. It is amazing to see their versatility as brewers with being able to brew their signature style of beers on all these types of systems that are completely different than the next. This year, John did 50 collaborations across 10 states and three countries with standouts being Arizona Wilderness, The Answer, The Bruery, Cloudwater, Hoof Hearted, RAR, Surly, and Trillium. Kyle did 55 collaborations across 15 states with standouts being Weldwerks, Superstition Meadery, Mikkeller, Kane, Great Notion, Forest and Main, Bottle Logic, and Aslin. However, throughout the 105 combined collaborations, the most popular collaboration of the year for both of them was the one they did together when Kyle traveled to Miami in April. The east coast/west coast brewing dream team created a "pastry" stout for the ages.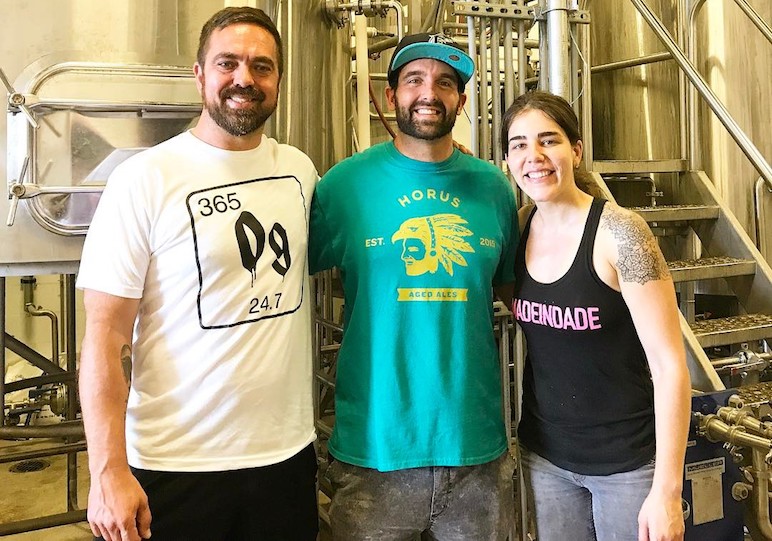 Collaborations have become a major part of the craft beer industry. They are a who's who of the brewing universe. While some might think collabs are a popularity contest and only a select few get the chance to brew with certain breweries, more and more brewers, big and small, are joining forces to brew these collective beers. They are an outlet for brewers to have fun while they unite, market their brands, and create a truly unique product. Some of the best beers in the past year have been through collaborative efforts.
At the time of releasing this article, the average Untappd score for a stout Horus is involved (12 released this year) with is an astounding 4.44. The plethora of different barrel aged versions of all those Horus collabo stouts are already some of those most anticipated beers of 2018. And J. Wakefield's stouts continue to be some of the most sought after beers on the planet, just take one peek at the secondary market. For this reason, it seems like everybody in the craft beer industry is scrambling in hopes to do a collaboration beer with J. Wakefield and Horus Aged Ales.
Both brewers were asked what they think about collaborations overall, why they are important to their respective breweries, and whether or not they consider themselves rockstars as beer drinkers across the world refer to them as.
John states, "Collabs are fun. They bring the brewing community together and that is what I love about them. Beers are made with people you may have never worked with before from across the world. Sometimes you are making something familiar and other times you are brewing something completely unfamiliar. It is always interesting to see other people's take on styles and processes. In the end, for me, it is all about the comradery associated with collaborating."
Kyle says, "This past year, I have had the opportunity to brew with the best brewers in the world. I will always be thankful for that and continue to brew with people I love and respect. Collaborations are a way to introduce your style of beers into regions and markets that might not ever see them otherwise, especially being a smaller regional brewery like Horus. It is awesome to see people on social media enjoying your beers all over the world. I am not interested in the cliqueness, fraternity culture, or celebrity status associated with some collabs these days. That's just not what it is about for me. I want to continue making good innovative beer with my friends, give consumers something to get excited about, learn from each other, and release a final product I am proud to put my name on. That's all that matters to me in the end."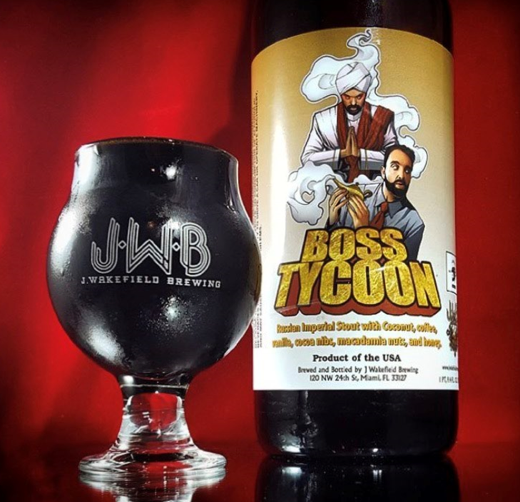 Boss Tycoon, a 14% Russian Imperial Stout filled with the kitchen sink of adjuncts is the dream child of JWB and Horus. The base stout is a combination of different elements of JWB's La Nada and Horus' Harpy Imperial Stout. The adjunct-fueled stout was brewed to mimic the taste of Haupia Pie on the island of Oahu. Many among the craft beer community believe it is the best beer made this year, if not one of the best stouts ever created. It smells like an incredible Hawaiian dessert, has a perfectly full but silky body, and you can taste all seven of the adjuncts including macadamia nuts, Jamaica Blue Mountain coffee, cacao nibs, vanilla bean, coconut, wildflower honey, and marshmallows. This was quite possibly the most lavish beer ever made between the amount of real vanilla beans, expensive coffee, and organic nuts that went into it. It is hard enough to get the flavor from one or two adjuncts, but to be able to have each of those seven flavors come out in such a big beer is a huge accomplishment in itself. Something not many other brewers could achieve.
John Wakefield says Boss Tycoon is "one of the best beers we have ever done. It is just an amazing stout. It is also the first beer we have ever used nuts in and I loved macadamia nuts, so that is right in my wheelhouse!" When Kyle was asked what separates Boss from the rest of the field, he replied "You would think that with the ridiculous amount of adjuncts in this beer that it would be a muddled mess, but instead it is an inviting dessert beer that has each and every ingredient shine on its own and harmonize wonderfully with the others. It is truly one of a kind." Maria, brewer at J. Wakefield Brewing says, "Boss is my favorite beer that we have made. I really enjoy the complexity of the beer and you taste a different layer with each sip."
Boss Tycoon is the first keg to blow at every event it has been at since releasing in June. Most people preferred it over this year's batch of the hyped beer, Big Poppa. One review went as far as saying "I would sell all my belongings for another bottle of that." Even the man behind Don't Drink Beer referred to Boss Tycoon as a masterpiece and commented on how it was amazing that all the ingredients melded together, resulting in such a svelte drinkable stout, even though he is often a big proponent of "pastrification." The beer has converted many previous stout naysayers with its pronounced sticky but subdued sweetness without being cloying or heavy. It has incredible balance with hidden alcohol strength and a flavor that keeps you coming back for more. Also, it has shown other brewers across the country what is possible from an adjunct perspective.
While one of the brewers prefers Cross Fit for exercise and the other loves to surf, John Wakefield and Kyle Harrop have a lot in common other than being two of the best stout producers in the world. They have become good friends in everyday life. While John and Kyle are both big intimidating guys on the outside, they are incredibly friendly and approachable, both family men, Star Wars geeks, Bourbon aficionados, former college athletes, and have an obsession with sneakers, particularly Air Jordans. John and Kyle exchange text messages about upcoming Nike releases regularly.
Much like many of the sought after sneakers, the secondary market values for Boss Tycoon escalated quickly after the release, with a bottle selling as high as $350, which is a crazy price tag for a non-barrel aged beer. It makes you wonder what is going to happen when the BA versions are unleashed in a few months. People will be traveling from all over the world just for a crack at landing a bottle in February 2018.
There will be four different barrel aged versions of Boss Tycoon releasing at Wakefest in mid-February. Much like the base beer, they will all be over the top and utilize scarce expensive ingredients, but have impeccable balance and flavor. "Dipped In Sauce" is Calvados Barrel Aged featuring Kopi Luwak coffee roasted by Mostra. "Sippin' On Yak" is Hennessy Paradis Cognac Barrel Aged featuring Kopi Luwak coffee also roasted by Mostra.
The other two BA releases will be very rare and special. The beers are a nod to John's head brewer, Maria's incredible work of being the "Treatment Queen" as Kyle refers to her. He believes strongly that she works better with adjuncts than anybody else in the brewing game. "She Neva Seen: Purple Label" is Double Barrel Aged with Calvados and Cognac featuring St. Helena coffee. "She Neva Seen: Pink Label" is Double Barrel Aged with Calvados and Cognac featuring Panama La Esmeralda Gesha coffee.
All of these BA versions of Boss Tycoon will be for VIP ticket holders only and the latter two will be available via a raffle at the festival since there will be such a small number of bottles. The "She Neva Seen" bottles will be along the lines of Bake Kujira as far as rarity goes. There might even be a few large format magnum bottles produced.
The following year for the Boss Tycoon series of beers could arguably be even more exciting because JWB and Horus plan on making an even larger quantity of the base beer. They also plan on aging several different versions of Boss Tycoon in incredibly rare Pappy Van Winkle Bourbon barrels. Details on that plan will stay limited for now, but the two brewers are really excited to unleash those in the winter of 2019. John and Kyle, the two Boss Tycoons of stouts, look forward to brewing this special beer together for many years to come.
And just you all wait for the details on the future project…"Mount Stoutmore!"
This article was submitted by longtime reader of The Full Pint, Ray Soler. If you are interested in sending in a guest article, please contact us at our contact form https://thefullpint.com/contact-us