Big Mike's Nor Cal Beer Trip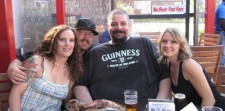 Last Sunday, the 3rd of July, I was lucky enough to find myself on a beer road trip. Mrs. Big Mike and myself, along with our friends Lance and Shannon, headed up to Nor Cal beer country.
It was already hot, in Sutter Hill at 9 in the morning when we left, so heading toward cold beer, seemed like the logical thing to do. We reserved a room in Petaluma, but started our day off in Santa Rosa, headed down to Novato and finally back to Petaluma, circuitous, perhaps, but well planned, as you'll soon see.
We decided to start at Russian River, and got there just before everyone and their brother showed up. The place was packed but we found a table and ordered our first round. To say this place is tastefully decorated would be a serious understatement, it was awesome. I especially enjoyed the poster telling postal employees not to drink in uniform, I guess Cliff Claven missed that memo. If you like brewery memorabilia, let alone fine beer and killer food, this place is a destination. I've always wondered about the pronunciation of one of their flagship brews, and was quickly set straight.
For those of you that did not know, it's (pl-in-knee) the dude, and (pl-eye-knee) the beer. I know, I hear you, we already knew that, well some did, some didn't, but I got it straight from the horse's mouth, well, waiter's mouth. We all had a couple of the aforementioned ales, the girls tasted a few different libations and I had a Consecration. We ordered some Pliny bites, recommended for people with little or no feeling in the mouth, very good, but very spicy. Our pizza options were substantial, but we decided to try The Clipper, very good, all artichokey and bacony and whatnot. Couldn't stay too long, we started getting the stink eye, because half of Santa Rosa wanted our table, time to bug out.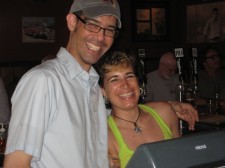 Next stop, Moylan's. Yes, it's in a strange place, relatively speaking, right next to a Carl's Jr, feet from the freeway, but once inside, you couldn't tell. It had that Irish pub feel, lots of old school beer cans, and memorabilia. It's a pretty big place and compared to the madhouse we just came from, was virtually empty. First up, Ryan Sullivan's Stout, one of my favorites and even better right from the source. They were out of Hopsickle, I know, sucks, right? I hemmed and hawed about what to get next, so, I just tried everything, systematically, of course, with the help of my lovely assistant.
I've had most of their beer, and like most of it as well, still, I was hesitant to try the Pomegranate Wheat, not a wheat beer fan, but I do like me some pomegranates. Damn fine beer, crisp, tart, refreshing, excellent bouquet, I want more. We even thought seriously about buying a five gallon keg for the B.B.Q. the next day, I'm not a wealthy man, so we just left instead.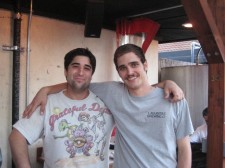 Our third and final stop of the day was Lagunitas, and what a way to end a perfect day. My buddy Lance had some tokens from a couple of years back when they were remodeling, so he went to cash them in, only problem was the dude laughed at Lance. Now I don't know how you roll, but Lance don't play dat, much like Homie D. Clown! I smelled trouble brewing, sounds familiar, but Lance just payed for the round and came back to the table. I could see the wheels turning, after a beer, I suggested he try the lady bartender, she looked like she was running the show, working fast and furiously, pouring perfect every time, and bam, it worked, she was the coolest. From then on, our two new bestest friends, Jessica and Brian took care of us.
As if the skies opened up and the light came filtering through the clouds, suddenly, a table outside opened up so we could enjoy the weather. The beer was amazing, so fresh, so tasty, the IPA was hitting perfectly. I saw the girls drinking little thimbles, cute little stemless wine glasses, full of dark stuff, so I had to see what was so special it needed to be poured in a cute lil' glass. It was a gift from the gods known as Barrel Aged Cappuccino Stout. The best beer of the day, sorry Ryan Sullivan, I still love you. If you like stouts, you have to try this, it was amazing. After all this drinking, and very little food, we decided to try the cheese plate, oh yeah, good choice, went very well with the IPA and the Cappuccino Stout. It was getting late, so we decided to peel the girls from their respective seats and pour them into the car for the 2 block ride to the hotel. A perfect day, great weather, nice people, excellent beer, tasty food, haven't had all of that for a long time. I'd like to thank Jessica and Brian for helping us out and being so nice and friendly, all the waitstaff for handling us after some of us got, shall we say, comfortably numb. I would also like to give a shout out to Scott and Chris for being so cool, loving good beer, and having a great sense of humor.
There were a couple more places we didn't get around to this trip. We really didn't have the time, we tried to squeeze all the fun out of one day, and did so rather well, I might add. This whole area is deserving of much more time and exploration. I would highly recommend a road trip to the area. Hey, did you know they make wine around here, huh, who knew?
Would you enjoy covering a craft beer event for The Full Pint? Please contact us via our contact form, or privately on Facebook or Twitter and perhaps you might become our next field correspondent.