11 Must Try Breweries in the PNW
The first time I heard "PNW" I was in Colorado, listening to someone describe where he was from. Unbeknownst to me, I had lived in the PNW for a summer a few years earlier. However, this new-to-me acronym for the Pacific Northwest (for theis article's purpose, Oregon, Washington and Idaho) brought to mind a different sort of vibe than I had experienced when I was there, warranting another visit. A trip to Portland, Oregon convinced me that, indeed, the PNW was an unexplored promised land for a new focus: my burgeoning love affair with craft beer.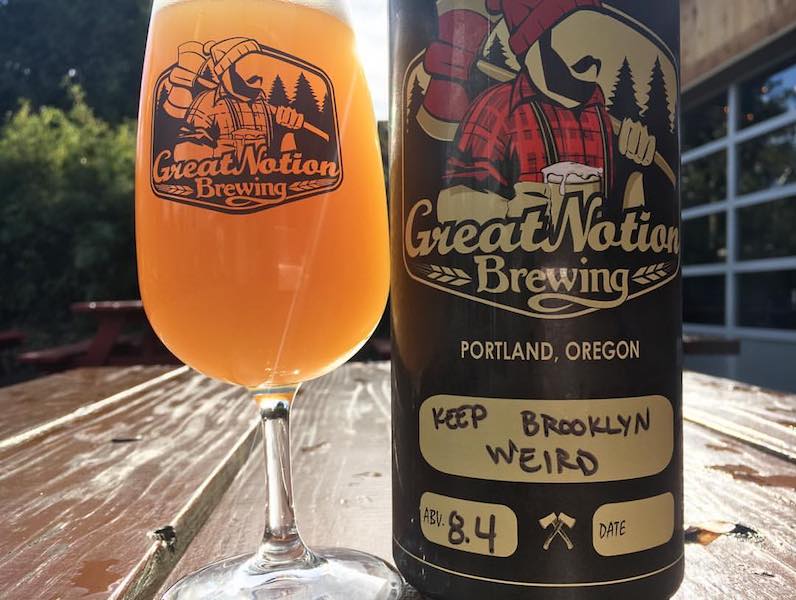 The area's dedication to beer has been this way for years, since early days of statehood (or before, if you're Ranier). More recently, this region experienced a craft beer genesis when Seattle's Redhook Brewery and Yakima Brewing opened in 1981 and 1982, respectively, and the Widmer brothers and the McMenamin brothers lobbied Oregon legislature for the ability to sell beer directly to consumers. Now, Oregon has 230 brewing companies operating 261 brewing facilities in 73 cities across the state, according to oregoncraftbeer.org (as of the start of 2017); there are 353 in Washington.
Some say the rise of craft beer here is due to the ingredients: The area is a grower's dream, with hops and barley both growing like gangbusters. Fun fact: Washington's Yakima Valley produces 77 percent of the total U.S. hop crop. Others say that the inclement weather that occurs for much of the year keeps people in pubs. But no matter which reasoning you support, the fact remains that the PNW consistently produces some damn fine beer that might be hovering right under your radar. Here are 11 breweries to seek out on your next trip to this beer-centric region, for both taste and experience.
Oregon
You've tried Deschutes, but have you tried:
pFriem Family Brewers, Hood River
In a location bursting with breweries, it takes a lot to rise to the top. pFriem has done just that, making a meteoric rise since their inception in 2012. Focusing on Belgian styles with a few PNW-focused IPAs to round out the list, it's a worth a visit to their scenic location at Columbia River's WaterFront Park to see what their brewing. Keep an eye out for their foray into barrel-aged sours.
Wolves & People Farmhouse Brewery, Newberg
Sure, many breweries focus on farmhouse ales, but how many are located in an actual farmhouse? Make the trip to Newberg to sample these "ancient beers in a modern style." The brewers make use of the farmhouse setting, utilizing local ingredients for their barrel-aged, wild and farmhouse beers. Grab a beer, like the Instinctive Travels Saison aged in gin barrels, and enjoy the fine people and bucolic setting.
Crux Fermentation Project, Bend
You won't find the word "beer" or "brewing" in the name, but don't let that alarm you. At this destination in Bend, brewers are focused on the process: decoction mashing, open fermentation and barrel aging. The result is perfectly polished beers that are delicious and very user-friendly, even if you don't fully understand the process that made them. Go for the beer, but be sure to stay for the show: sunset, which sets over the Cascade Mountains. You'll have a prime spot and a tasty beverage with which to toast the day.
Great Notion Brewing, Portland
It can be difficult to impress beer drinkers in a town like Portland. Great Notion not only has firmly secured its well-loved place in PDX in just a year, but has also been making national waves. After all, how many PNW breweries are convincing its drinkers to quaff hazy New England-style IPAs? But it's not just IPAs—try the Blueberry Muffin Sour if you don't believe me. The good news is that Great Notion is expanding: The new taproom and restaurant is set to open on NW 28th Ave this summer.
Ecliptic Brewing, Portland
Helmed by one of Oregon's beer-brewing icons, John Harris, Ecliptic Brewing is producing richly nuanced beers in exciting styles, like dry Irish Stouts and single hopped Red Ale next to award-winning brews like the Capella Porter. Though many of the beers weigh in with hefty IBUs, they're remarkably drinkable. In a town known as "Beervana," Ecliptic definitely orbits close to heaven.
Washington
You've heard of Red Hook, but what about:
Fremont Brewing, Seattle
Conveniently located near the Fremont Troll, there's nothing ugly about Fremont Brewing. Since 2009 they've been creating clean, quality beer (try the Lush IPA) with a focus on local and organic ingredients when possible. The people approve (it's now the third largest independently-owned craft brewery in the state) and it's been gaining popularity in other states, too: You can now find Fremont in southern California.
Holy Mountain Brewing, Seattle
Only two years old, Holy Mountain has already made a name for itself, quenching Seattle's thirst for Belgian-style, barrel-aged and sour beers. While those styles are what brought the initial rush, the continued excellence of their offerings keep people returning to see what's brewing. And while you'll find plenty of hoppy options, you won't find an IPA. That, in itself, is refreshing.
Propolis Brewing, Port Townsend
Focused on creating "herbal" ales that are made with locally sourced ingredients (many of which are organic), Propolis brews extremely small batches of mostly farmhouse and barrel-aged beers. It's worth a trip to try the offerings on tap, utilizing ingredients like elderflowers, salmonberries, spruce and wild cherries.
Island Hoppin' Brewery, Orcas Island
You know that craft beer is almost ubiquitous when a tiny island like Orcas, one of the San Juan Islands, has a brewery. Tasty brews like the Elwha Rock IPA or Camano Coffee Porter make this truly destination brewery worth the ferry ride and the setting—well, it's enough to make you stay for a few days.
Idaho
You've heard of Grand Teton Brewing Company, but have you tried:
Selkirk Abbey Brewing, Post Falls
It might be surprising to find excellently crafted Belgian style beer in Northern Idaho, but don't let that keep you from tasting Selkirk Abbey's beers. From their Belgian Witbier ("Chapel") to the innovative Rye Saison ("St. Augustine"), Selkirk consistently proves that Idaho should not be ignored on the craft beer map.
Payette Brewing Company, Boise
The first brewery to offer their beer in cans, Payette has been growing steadily and now boasts a brand-new facility that opened in Boise last summer and offers 20 Payette beers on tap. IPA lovers will have a hard time choosing between experiential brews and new takes on their classic Rustler IPA.
Every list is, by nature, subjective and it's impossible to list every favorite. As a result, these are just some that you definitely should visit while in the area. However, it's a well-known fact that the best beer is the one you're currently drinking. So what are you sipping from the PNW? Let us know in the comments below.