The Bruery's 2nd Anniversary Party Praise and Suggestions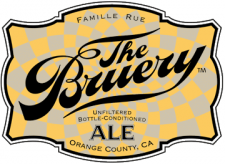 This year, The Bruery broke up their Second Anniversary Party into 4 sessions, instead of just two from last year.  I got to attend the second session on Saturday, and to sum it up, it was smooth sailing. Below is a quick and dirty run down followed by praise and suggestions.
For me, this was a real laid back enjoyable few hours of craft beer goodness.  Their very small tasting room was not any more crowded than a typical Friday night, and all of our tasting buddies were on hand pouring some very great beer to compliment the great beer The Bruery was pouring.  You could get almost all the beers The Bruery has made in the last 9 months (with the exception of Black Tuesday and White Oak) as well as some big time tasty treats.
We got to try The Bruery's latest anniversary ale, Coton, The Barrel Aged version of Coton and Melange Number 5 aka Dirty Beaver Juice Weekend.  Like last year, the other shining star of the event was the food provided by Beachwood BBQ.  Smoked Andoullie, smoked chicken, fried pickles, killer baked beans, friend green tomatoes made my head spin.  Another surprise was how well Oud Tart is doing well after it's release. One of my critisims of the beer was that it wasn't quite sour enough for me. I'm a guy who likes his IPA's super bitter, his coffee super black and strong and his sours really sour.  Oud Tart has had a bit of time to do some developing and boy did it. What I was looking for last January is what I found this May. Sour complex goodness.
Here is my run down of praise (Followed by Suggestions):
Praise
Great organization of event! Splitting up the madness into 4 controllable sessions was a great idea. We learned on "Black Tuesday" that the word is out about The Bruery, and people will bum rush this place when something is poppin.  I didn't have to get in a long line for a pour, I wasn't tripping over people, and I was able to pull up a seat when I went to get food. Other breweries and beer bars should take note of how to run a well organized event from this.
The Ability to Sample the Gems. At previous Bruery events or even at just your average night at the tasting room, the Bruery announces a new or rare beer, only to run out of it, or even worse, limit it to a very small pour.  It sucks when you look forward to a new/rare beer only to find out the keg has been kicked or that you can only have an ounce or two so more people can try it.  As far as I could tell, I could have burned through every ticket on Barrel Aged Coton if I really wanted to get down on it.
Great food. I love barbeque, more than anything else foodwise.  Beachwood BBBQ was incredible as always with their variety.  They dished out the perfect portions for someone a few beers into their evening.  Amazing, just amazing.
Suggestions
Unannounced goodies were missing. I can't speak for the other three sessions, but one of the things I really loved about last years party was a good handful of unannounced tap and bottled offerings.  There were sours I had never heard of and never saw again last year as well as impromptu bottle pourings from the archives that made the event feel even more special and exclusive.  For me, most of the beers being poured were old hat for a guy who visits The Bruery often.  I would have loved it if Tyler's Magical Unicorn or some pilot batches made an appearance for us die hard Bruery geeks.
No beer in the food area. I know The Bruery is following the letter of the law, and not allowing beer to be taken outside the confines of tasting room. I completely understand and respect that. With that said, I would have tried to get an exception from the city or looked the other way to get around this rule.  The only thing better than Beachwood BBQ is Beachwood BBQ with some Bruery Beer. AM I RIGHT =-)
Last Call/Time to Go Home. The last thing The Bruery wants is to have some intoxicated folks leaving their party, and it can happen with their strong beer.  I think a buffer time of a complete hour would have been better from last call to "let's pack it in folks."  Although I am not considering the staff with this suggestion, I would have done last call at 15 minutes prior to the end of the session, and let guests sit outside for an hour before sending them on their way.