The 7 Best Malty Craft Beer Brewers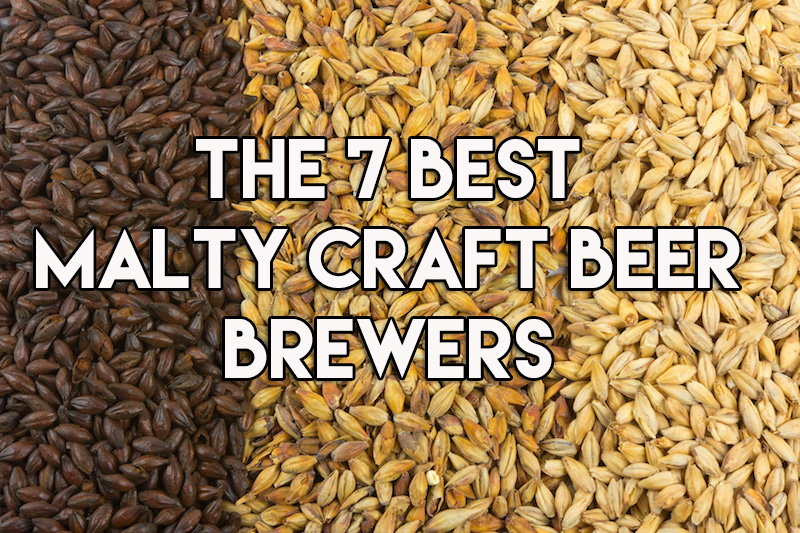 I am an admitted Hop Head. It may very well read on my death certificate that I OD'd on hops. The love is that strong.  That doesn't mean I don't appreciate yeasty and malty beers as well.  There is a time and a place for everything.  You might have friends that are trying their best to get into craft beer, but when you give them an IPA, their mouth curls up. Don't fret, I'm here to list some of the best craft breweries in the country who have a great lineup of what I refer to as malty beer. That's beer that throws hops into the back seat and let's the toast, roast, caramel, toffee, chocolate, coffee and other fun and unique flavors that come from malted barley shine. I know I missed someone, so please don't be hurt, just add it in the comments section.
AleSmith Brewing Co. – In the heart of IPA country is veteran craft brewery AleSmith Brewing of San Diego.  While they make one of the best IPAs in the country, they are well established for big, bold, yet balanced malty beers.  They have won plenty of awards for Speedway Stout, Old Ale, Old Numbskull and others not mentioned, and with good reason. They also make limited runs of these beers aged in sprit and wine barrels. Now that AleSmith is expanding, do yourself a favor and start with a bottle of Speedway Stout, you'll thank me.
Bell's Brewery – Bell's Brewery has a wide variety of ales on the color, flavor and ABV. spectrum.  They absolutely kill it with Expedition Stout, which is a remarkable Russian Imperial Stout that is ready to drink fresh and ages gracefully for years. They also have their Third Coast Old Ale, which is straddling the lines between barleywine and old ale and it kicks ass.  While harder to obtain, they age the Expedition Stout blended with Double Cream Stout in Bourbon Barrels and call it Black Note Stout. As a bonus, I'd like to include Bell's HopSlam. I know the beer is a representation of hops, but it's one of the maltier Double IPAs out there. Hop candy some might say.
Boulevard Brewing – Boulevard brewing brews a little something for everyone, and then they have a lineup of extra bold beers known as the Smokestack Series.  Within that series is a malty beer lovers dream.  Depending where you live, or if you trade, get your hands on Dark Truth Stout, The Sixth Glass (a very malty decadent Belgian-Style Quad), their Imperial Stout, and of course their Chocolate Ale.
Cigar City Brewing – In one of the hottest states in American, the last thing you'd think a brewery would want to brew, market and sell is a strong malty beer. While Cigar City pays the bills with beers like Jai Alai and Florida Cracker, they slay craft beer enthusiasts with some of the best malty beer in the country. While a little harder to get, Marshall Zhukov's Russian Imperial Stout, Hunahpu's Imperial Stout, Leon's (A Big Barrel Aged Barleywine), Jose Martel Porter and their 110k + OT Series are all impeccable. Easier to find is their Maduro , which is a easy drinking malty beer. If you are in Flordia, stop by their tasting room to try some of these.
Firestone Walker – Firestone Walker has transformed themselves from a hoppy pale ale house to one that has mastered barrel aged strong ales and sour ales. Anyone looking for a strong, flavorful malt bomb should look no further than Firestone Walker's Proprietor's Series.  Parabola is the gold standard for Barrel Aged Imperial Stout, Sucaba is a ready to drink Barrel Aged Barleywine and they keep adding more hits to this lineup like Stickee Monkee (Central Coast Quad) and Helldorado (Barrel Aged Blonde Barleywine).
Founders Brewing – Founder's Brewing can't be forgotten in this list.  They make solid hoppy ales, but they are famous for their Breakfast Stout, which is brewed with oats, chocolate and coffee. We can't forget their uber famous KBS (Kentucky Breakfast Stout), which is a chocolate and coffee imperial stout aged in bourbon barrels.. Their Backwoods Bastard captures locals hearts yearly, it's a barrel aged scotch ale.  After making a big name with those beers, they kicked off their Backstage Series a few years ago, which features other malty treats such as Big Lushious, CBS (Canadian Breakfast Stout), Bolt Cutter (A barrel aged barleyine) and more.
The Bruery – The Bruery is known for many types of beer. They have beers that are similar to Belgian-Style Barrel Aged Sours, they have insanely creative experimental beers and they also have a beefy lineup of strong malty barrel aged beers. When I say strong, I'm not talking 8% here. They have their yearly released Black Tuesday, which is a whiskey heavy 19% Imperial Stout, they have their annual anniversary ale, which is a barleywine/Old Ale aged in various barrels, clocking in around 16%, White Oak, which is a barrel aged wheat wine hovering around 15%, White Chocolate, which is a riff on White Oak that tastes like….White Chocolate, and at least a dozen more beers not listed here that are big, malty and strong.