Dan's Beer Christmas List (2012 Edition)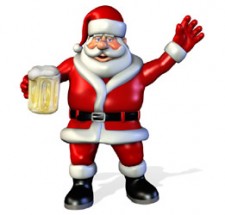 Dear Santa,
I feel like I've been a good boy this year. I've tried to bring cheer to the craft beer world with Jonny in the form of The Full Pint, and wanted to pass along my Beer Christmas List.  I know you can pull some of this off, if not all.  I don't deserve all of it, but if you can wing it, I'd be grateful. Anyway, I will leave you some gingerbread men and Sierra Nevada Celebration in the kitchen on Christmas Eve. Enjoy
Love,
Danny Fullpint
1. A chest freezer, temperature override system and a draft system coming out of it. (Somebody help this poor boy out)
2. A 15 Gallon Keg of Russian River Beatification.
3. Founders Brewing Distribution in California. Thank you for Boulevard Santa. That was an unexpected pre-Christmas gift.
4. A large run of Lost Abbey Cable Car and Yellow Bus.
5. A case of 1 day old Dale's Pale Ale pounders. I'd take them off the canning line, but I'm kind of far from the brewery.
6. A Dogfish Head retail/brewpub establishment in Los Angeles.
7. Ommegang Barrel Aged Chocolate Indulgence.
8. Batch 2 of King Henry