BrewDog The End of History – Calm Down Everyone
It has taken me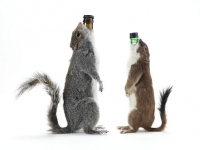 the weekend to digest not the news of BrewDog's latest high alcohol beer stunt, but the hoopla it has created online in the beer purists/ geek circles. For those who haven't heard, BrewDog has upped the ante in the Strong Beer wars with 'The End of History" another highly concentrated beer, this time a Belgian blonde ale mixed with juniper berries and mead, stuffed in the likeness of the fallen Mr. Stoat.
One message with in the video (see below) is this is it for the war, they are claiming this is it. It could be the end, then again, maybe it isn't. Either way, I don't care that much.
There are some that are chapped by BrewDog's (shameless) marketing and high alcohol gimmickry.  The chappedness stems from the beer being 1) unobtainable – super small batches of $55 – 775 depending on which high gravity beer not including shipping. 2) The beer doesn't meet a craft beer aficionado's standards, being super extreme and un-beer like.  I completely understand both of these points.  Some have cried this is all too gimmicky, and a turn off.
My stance is that we should calm down, relax, and crack a high quality (obtainable/affordable) craft beer, chuckle, and give a toast to BrewDog.  BrewDog is on our side. They are using this highly gimmicked marketing strategy  as a way to get their name out and provide high quality/obtainable craft beer in a land that is in great shortage of it.  There is a good handful of craft brewers going out of business just in the state of California, and it is my belief some creative marketing like this could have aided their survival.  I've had the fortune of trying Tactical Nuclear Penguin and Sink The Bismarck, and I've walked away from both feeling I'd rather have a move even keeled beer or a more refined glass of liquor. It was fun, it evoked conversation, but it's nothing I'd stock my shelves with, even if I was wealthy. While these beers won't ever win a medal, they have given BrewDog's a huge advantage in furthering their production output in the UK. I'm happy for them because of that.
If you still think this is a load of shit and bad for craft beer, still, go crack a high quality, easy to obtain craft beer, and thank whomever you have the freedom to do so.
The End of History from BrewDog on Vimeo.