A Spontaneous Visit to Russian River Brewpub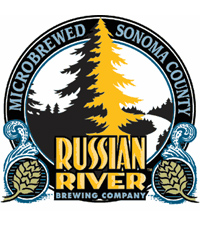 Less than a month ago, I took a flight up north to the San Jose area on business.  I go there a few times a year by myself, and always look for a cool beer spot, whether it be a brew pub, a tasting room, or something off the beaten path with some good beer to be had.  Outside of bottle shopping at BevMo, I usually don't have the time or resources to scour the Silicon Valley, and don't have the guts to go into San Francisco on a whim, by myself on a work night.
What made this trip slightly different from previous ones, was that my old friend Jesse Smith (the dude I reunited with for DarkLord Day) was also in town from Indiana on business. My goal was to meet up with him the night before he had to catch a plane back to Indiana, for a beer.  We talked about hitting up the Toronado, as I wanted him to try Pliny The Elder on tap. I anticipated it being a magical moment for him, as it was the first time I did.  Then I half jokingly asked him, "how far are we from Santa Rosa (where Russian River Brewing is located).  We looked at Google maps and saw that it was a good two hours away from San Jose.
After the defeat of seeing how far Russian River was, we began talking about where we would go for beer that evening. As I started feeling a bit defeated by time and energy, Jesse said, "Get ready, we're driving to Santa Rosa."  Sure enough, he showed up in his rental car, and we started heading up north to Santa Rosa to go to Russian River!  As a guy who just had a baby, and lives fairly non adventurous life, this seemed like a really crazy adventure to take on a work night.  It was downright thrilling. I'm with a great friend, and we are on an adventure that no one was holding us back on. Honestly, I almost felt guilty.
After put putting on the slow Highway 101 for 2 hours and change, Jesse and I got to Santa Rosa around 10 – 10:30 at night and strolled into Russian River Brewpub.  There is only a select few places that do this, but I got goosebumps and had an ear to ear smile the minute I walked in.  The place was dimly lit, not much noise, had cool beer artifacts on the wall, had their famous chalk board of tap offerings, and by golly, they had a place for Jesse and I to sit down.
While it's a theory ,I kind of  have this notion in my head that, the better the beer, the bigger the buzz surrounding a beer joint, the higher the chances are the staff are going to act like stuck up miserable assholes.  I'm not going to name names in this piece, but folks who have visited the big named beer spots know what I am talking about.  We sat down, and I introduced myself to bartender Jeff. He shook my hand, made eye contact, and welcomed us. WTF I thought! I explained to him I co-run a website called thefullpint.com, interviewed Vinnie, and was a mega fan.  Instead of rolling his eyes, or acting not interested, he called over another bartender and introduced us. Amazing! All I can think is between the great beer and location, why wouldn't you be nice.
So here I am sitting in beer mecca at 11pm at night, and have a chalk board of beers listed that I have never tried.  What is the first thing I order, you guessed it, Pliny The Elder.  Then I began giving Jesse a tour of the beers that I've tried and loved.  I could tell he was a bit skeptical, and rightfully so, but once he had his first glass of beer, he understood why I was so excited.  We had skipped dinner to make this journey, so we were happy that the kitchen was still open that late.  We ordered up their 'Excell" pizza which had pesto,sausage, spinach and onions. It was thin crust, and pretty damn good.
Jesse's buddy Andres who lived in Santa Rosa showed up, and we had ourselves a blast.  Much like going to a Stones concert, I wasn't interested in hearing some cuts off the new album, I wanted to hear the hits. I had Consecration, Temptation, Supplication,Damnation, and of course Pliny the Elder.  There were about maybe 6 other beers I have never tried, but I couldn't be bothered at that point in time. I kick myself now for not trying beer I may never get the chance of trying again, but at the same time, there was nothing sweeter than drinking some of the best beer in the world at the source.
Our late evening adventure ended with Jesse stocking up on bottles to take back to Indiana, while I purchased some choice pieces of glassware. As we were ringing up, I told Andres, a Santa Rosa local, that while he may not be used to $12 and $20 dollar bottles of beer, these local gems could make him a small fortune on eBay.  I told him to do a search for Russian River on ebay when he got home. He was astonished, as he really only came to Russian River when he had a hankering for pizza.
So in summary, Russian River is a must visit beer attraction.  Amazing beers, chill patrons, super nice wait staff, and good food to match.  While I am not 100% serious, I can say I've climbed to the craft beer mountain top.