2015 Craft Beer Year In Review Part 3
Dan from The Full Pint recaps the year in craft beer in a multi part series. Make yourself at home this holiday season here at TFP as we recap the last 12 months and get ready for another 12.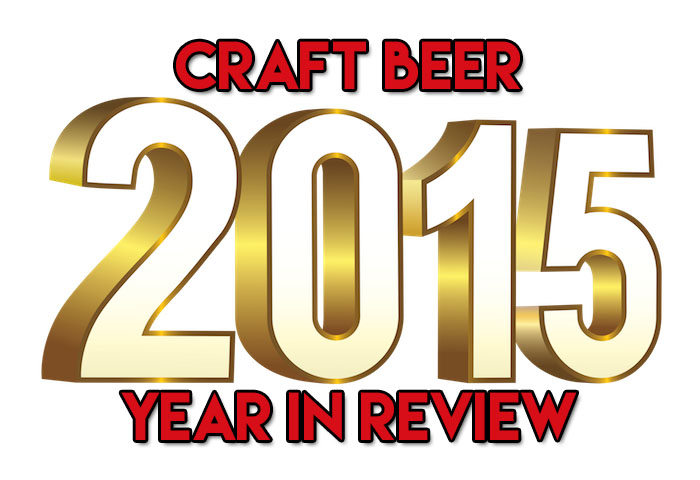 Bruery Terreux – As Placentia, CA based The Bruery ramped up production to meet demand of their membership clubs and national sales, they began running into some unexpected bugga-boos in the brew house, causing them to dump costly batches of beer or even worse, recalling them once they have hit the streets.  They solved this problem by separating out their barrel aged, wild barrel aged and clean ale production processes.  Now, all of the barrel aged beers are under the brand name Bruery Terreux and a separate tasting room destination is to follow.
Death to the Pint Glass – What would craft beer be without a little bit of shaming? Well a few years ago, pubs and home drinkers were corrected and or shamed into stop serving beer in chilled or frozen pint glasses. This campaign was taken a step further this year when many influential (including your very own The Full Pint) publications and members of the craft beer community declared the traditional shaker/tumbler was not suited for craft beer.
Duvel Moortgat/Duvel USA – Belgian Brewery and beverage group Duvel Moortgat had a very eventful year here in the US.  Just settling into their acquisition of Boulevard Brewing Co. and riding the Game of Thrones popularity wave with Ommegang, they purchased a stake in California favorite Firestone Walker. While there was initial shock in the Firestone Walker acquisition, the craft beer community has largely shown respect to Duvel Moortgat and a nod of approval in contrast to the AB-InBev/MillerCoors/Constellation Brands transactions this year.
Green Flash Brewing/Alpine Beer Co. – Green Flash started this year off with a bang, announcing the acquisition of Alpine Beer Co.  They gave the company a PR overhaul, and took on the responsibility of brewing their flagship ales at the Green Flash brewery. A vocal minority, made of of diehard local fans were quick to point out the upscaled recipes were not hitting the mark. Regardless, Green Flash stayed the course and launched the Alpine brand nationally, with noticeable improvements on the recipes. Shockingly, long time Green Flash Brewmaster Chuck Silva resigned after winning a GABF Gold Medal this fall in the middle of setting up their east coast brewhouse.  The Alpine brand finished the year strong by releasing longtime hard-to-get favorites Exponential Hoppiness and Great, leaving the same upset vocal minority speechless.  Right now, Green Flash has two mascots evangelizing for them. Surprisingly, CEO/Founder Mike Hinkley is beating the Green Flash drum proclaiming they won't sell out, while Bobby Mathews is bringing a nicer edge to the once grouchy facade of Alpine Beer.
Gose Bastardization – In 2014, a few craft breweries went out on a limb and brewed an oft forgotten style of wheat ale, Gose.  In the midst of the sessionable beer craze and people dipping their toes into the tart and wild spectrum, Gose became an unlikely hit with a wide audience of beer drinkers. Just like the Red IPA, White IPA and Black IPA craze, Gose was part of many craft breweries lineups suddenly.  It got to a point where people were veering away from the intended style completely, throwing fruit, spices, and even imperializing it. Some sampled didn't even taste salty. As long as the word gose was on the package, or worse a Gose pun, it would sell.
Modern Times Beer – A very young craft brewery in San Diego is beginning to captivate the entire state of California, which is a pretty big area to cover.  Modern Times has won over the beer geek community and newer drinkers with stylish packaging, over the top marketing, and most importantly, nailing a handful of styles of beer people want to drink.  It's a winning combo that other young breweries need to take notice of.
Oskar Blues Brewery – Oskar Blues has been a big hit with their very focused lineup, to the point where they decided they needed to increase production.  They quietly made a transaction with private equity firm Firemans Capital to obtain this goal.  They added an IPA to their lineup, which is a marketing no-brainer, and took their popular draft only Death By Coconut to the canning line for a national push.  They announced their third production facility for Austin, TX.  While we hope they stay independent, they are making themselves very attractive for a equity firm sell off.
Trading, Chatting and  Reviewing Shift – We mentioned last year that trading started becoming popular on Instagram.  This year, the entire experience provided by RateBeer and Beer Advocate (chatting, trading, and reviewing beers) has shifted to Facebook Groups for chatting and trading and Untappd for reviewing beers.