The Bruery Black Tuesday 2014 – Society Only Party Tickets on Sale Today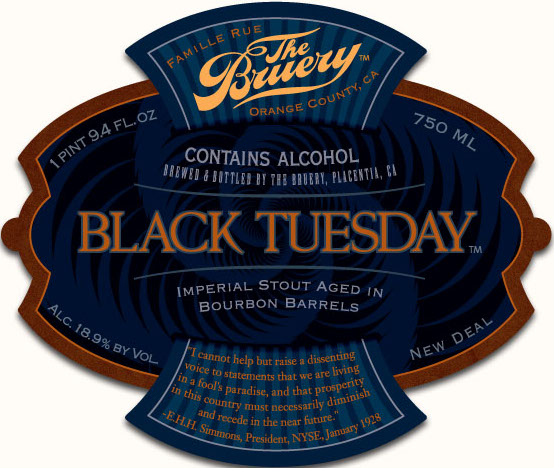 Tickets for the release of 2014 Black Tuesday® will be going up for sale today at 2pm exclusively to our Society members via TheBrueryStore.com. You will find the tickets in the "merchandise" section of the website.
The events will be held over two evenings at our Tasting Room. Sessions are at the following dates and times:
October 28th – 4pm – 6:30pm
October 28th – 7:30pm – 10pm
October 29th – 4pm – 6:30pm
Due to the size of our Tasting Room, we are limiting sales to 1 ticket per member. We understand this isn't ideal, but want to let you know that with the anticipated opening of a Bruery Terreux tasting room in 2015, we should be able to accommodate more people in the years to come.
Price: $55 (no further discounts applied)
Included:
High end crystal tasting glass (option to purchase 1 additional for $15 at the event)
Catered, gourmet hand passsed appetizers
7 taster tickets for Black Tuesday and it's variants (there are 8 options)
Unlimited Hottenroth "palate cleansers"
Beer List:
Black Tuesday 2014
Black Tuesday Nitro 2013
Double Barrel Black Tuesday 2014
Sundae Black Tuesday 2014 (cask – winner of blending competition)
Pistachio Vanilla Black Tuesday 2014
Rum Barrel Aged Black Tuesday 2014
Chocolate Rain 2014
Grey Monday 2014
As always, we're very excited for the release of Black Tuesday and we hope that you are as well.
Cheers,
The Bruery