Stone Vertical Epic: The Final Chapter At Library Alehouse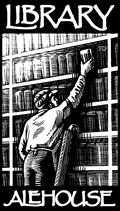 Stone and Library Alehouse Celebrate the End of an Era with an "Epic" Draft List
Wednesday, December 12, 2012 – We at the Alehouse are honored to be one of only a handful of establishments that are pouring Stone Vertical Epic 03.03.03 through 12.12.12 all on tap on December 12, 2012 at 6PM (02.02.02 is staying safely tucked within the walls of Stone's World Bistro in Escondido).
FULL POUR Details and Pricing:
08.08.08 through 12.12.12: $7ea per 12oz Pour or $10ea with a Commemorative Glass
03.03.03 through 07.07.07 will be served only in the below flights in order to spread the rare stuff around as much as possible.
FLIGHT Details and Pricing (6oz of Each Beer):
03/04/05: $11
06/07/08: $11
09/10/11/12: $13
03.03.03 through 12.12.12 With a Commemorative Glass: $40
Those who order the flight of 03.03.03-12.12.12 will receive their beers in the separate flights noted above so we can ensure prompt service and sufficient glassware.
We hope you'll join us for this once in a lifetime opportunity.
The Library Alehouse is a true public house, Santa Monica-style, featuring an ever-changing variety of 29 craft beers on draft, as well as many hard-to-find bottled beers and a menu of beerfriendly, inspired American cuisine.
The Library Alehouse is located at 2911 Main St. in Santa Monica. Hours of operation are 11:30 a.m. to midnight seven days a week and the restaurant is available for private parties and offers catering.
www.libraryalehouse.com – @LibraryAleHouse – Facebook