Stone 13th Anniversary Celebration Photos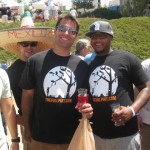 Pictures taken by Pooder & Jonny Fullpint  at Stone Brewing Co.'s 13th Anniversary Celebration and Invitational Beer Festival, Session A at Cal State San Marcos.
I think its safe to say a good time was had by all at Stones 13th Anniversary Celebration. The non beer highlight of my day was definitely catching a guy in the crowd wearing a TFP shirt. My top 3 pours were Black Pearl from Maui Brewing, Old Foghorn from Anchor, and Monkey Love from Back Street Brewing. Even though it did get a little warm for my liking, it was indeed a beautiful day.
Stone expanded this year's venue by adding a lower section with more booths as well as umbrella covered tables. There certainly was a huge crowd this time around, but there was more than enough room to move about freely.