Sign Up for Beer University Today!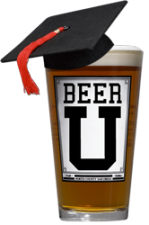 Stone Brewing Company holds wonderful and tasty beer classes, called Beer University at Stone World Bistro and Gardens.  Below is the recent class schedule that we'd like to share with you all.
This week's Beer U: Strong Ales is sold out, but we've got several more in store for you in March!
Beer U: Homebrewing
First up on March 8th: that wonderful kitchen science experiment that turns into beer. The class will include a live brewing demo, and you'll get to try several samples of finished homebrews, too. http://bit.ly/d4iVpt
Beer U: Stouts
Just one week after that we're gearing up for our Stone Imperial Russian Stout release in April–we've got a Beer U all about stouts! Dark, beautiful, glorious stouts… http://bit.ly/aKD26M
Hey Ladies (and friends and relatives of beer-loving ladies)!
————————————————————-
Don't forget about our sister beer series for Women Only–and now we have an email newsletter just for this awesome series of events! You can sign up for the Women Only newsletter (or any Stone newsletter) here: http://www.stonebrew.com/newsletter/
Women Only: Hops
This hasn't made it to the newsletter yet, so I'll tell you about the next one now: the March 2nd meeting will focus on my and everyone else's favorite beer ingredient–hops! Tasty! http://bit.ly/8jrEHH
Find out more of what's going on over at Stone by following this link! http://www.stonebrew.com/calendar/