Celebrate The Relaunch Of Coney Island Human Blockhead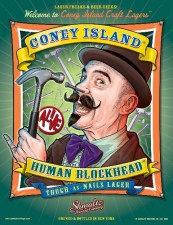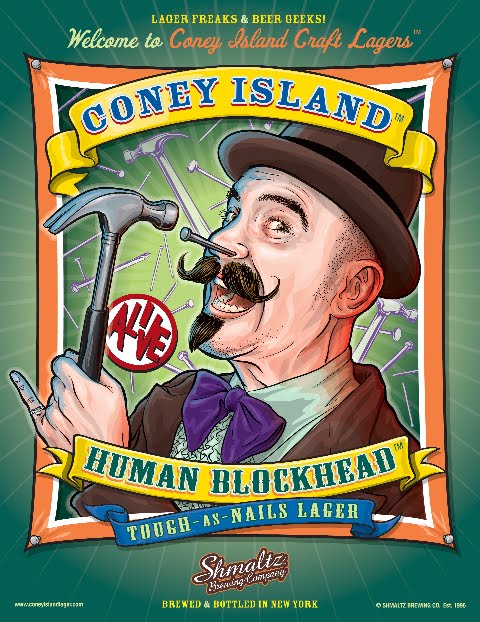 Beer Freaks far and wide, step right up to enjoy another unique offering of the season!
Pound for pound, the Blockhead is a true professional. Penetrate the senses. Engage the brain. Propel towards the palate. Try this at home or in your favorite watering hole. Purely for your amazement!
This award-winning strong lager is only available on draft for a limited amount of time, so don't miss your opportunity to try it.
Join Shmaltz Brewing for TWO Southern California launches at TWO of the states premier beer venues. On Thursday, we'll celebrate at Verdugo Bar in Los Angeles, and on Friday, we'll congregate at Hamilton's Tavern in San Diego.
Verdugo Bar – Thursday, January 28th
7pm to 10pm
No Cover / Cash Bar
3408 Verdugo Rd.
Los Angeles, Ca, 90065
Take advantage of your first opportunity to try the 2010 batch of Coney Island Human Blockhead, our award-winning Tough-as-Nails Strong Lager. Coney Island Lager, Albino Python, and Sword Swallower will also be on tap. $1.00 off all Coney Island Craft Lagers ALL NIGHT LONG. Also meet Zak Davis, Shmaltz Brewing Company's own HE'BREW Hammer.
Hamilton's Tavern – Friday, January 29th
5pm to 8pm
No Cover / Cash Bar
1521 30th St.
San Diego, Ca, 92102
8 SHMALTZ BEERS ON TAP!!
$3.50 DRAUGHTS!
Coney Island Human Block Head '10 & '09, Sword Swallower, Albino Python, & Coney Island Lager
Strong Ales: HE'BREW Origin Pomegranate, Rejewvenator: Year of the Date (2009), & Jewbelation Bar Mitzvah
CONEY ISLAND DOGS!!
Kosher Beef franks w/ your choice of mustard, onion or relish. Add chili & cheese if you must! Two for $5!!