Brewmaster Spotlight – Sam Calagione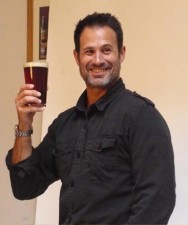 TheFullPint.com is proud to bring you an interview with Dogfish Head Brewing's founder and president Sam Calagione. Sam and Dogfish are world famous for brewing some of the most unique ales, which typically pack a nice punch.
Rounding out his 13th year with Dogfish, Sam discusses his recent projects, looks back on some old ones, and shares some interesting facts you might not know about one of our favorite breweries.
TheFullPint.com: You guys started out in 1995 and your popularity and size has grown dramatically, and I wanted your thoughts on all this growth in both of those areas?
Sam Calagione: Well I mean we are really proud to have grown as much as we have. We've been averaging growth of about 40% per year for the last five years, but we have been proud of the fact we've been able to grow without having to waiver from our original mission.
In other words, back in 1995 we were the smallest commercial brewery in the country, but even back then our average beer was 9% alc with 6 rather than four ingredients. Back then, not many people gave a shit about that kind of beer, but fast forward to today, and we do somewhere between 75,000 and 80,000 barrels. We are still using 6 or more ingredients and averaging 9% alc.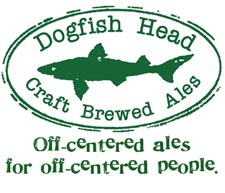 TFP: You and your peers are starting to become known in the beer geek community as rock-stars. Jim from Sam Adams, Tomme Arthur from Lost Abbey. How do you feel about this new perception of brewers?
Sam: Kind of a little uncomfortable because of the name. Dogfish has done the same thing for 13 years in a row, we just have more people recognizing it, but we do it because we love making these huge explosive beers. but not for our explosive egos. Anyone who gets a brewery open is a rock-star, so there are really 1400 rock-star brewers in America.
TFP: Isabelle Proximus, the collaboration between Avery, Russian River, Lost Abbey, and Allagash has been completed. You wanna tell us about Dogfish Head's involvement on the brew and thoughts on the end result?
Sam: The project started when I got asked to write a book called Extreme Brewing. I told the publishers that approached me, I would do it on one condition, that I would be able to get recipes from other craft breweries besides DFH. I also had the idea to take a trip to Belgium to share with them the kind of beer we (craft brewers) make. So I had a chance to assemble an "A-Team", who not only makes really interesting beer, but guys I also like to hang out and party with. Those four happen to be the ones who I worked with on Isabelle. They are just four guys that make some of the most exciting beer. Once we were over in Belgium, we decided to try and brew a lambic together from our different barrels. Tomme really drove the project, tweaking the recipe here and there. I am really impressed on how it turned out.
TFP: Are there any other brewers or breweries you are dying to work with?
Sam: There are brewers that I admire, but none in particular. I'd rather not say, so that I don't offend someone I don't mention.
TFP: Any non traditional ideas you haven't tried yet?
Sam: In two weeks, we will be introducing a Sahti, a traditional rye juniper beer from Finland that's been around for centuries, but we are putting our own spin on it. We are calling it SAHTEA. We are adding tea, and a step mash with big rocks and wood fire, and lowering the red hot rocks into the mash. We are going to pilot it at our pub.
TFP: What is the craziest idea that never made it to production?
Sam: We had one batch early on that just didn't fly called High Alpha Wheat, a wheat beer made with lavender and pepper corns, back in 1996. We put too much lavender in it, and it was like fuckin' perfume.
TFP: Is there a story behind how you entered the California market?
Sam: Well basically, we started Dogfish.com,we designed it  so we could tell where our traffic is coming from. Even though we weren't selling in CA, they were our top visitor. We know its a giant, extremely competitive craft brew scene. We decided to send three really special beers. 90 Minute, Palo Santo Marron, and Midas Touch. We targeted some really hardcore fan areas, and went from there. Hopefully in 2009 or 2010, we have larger capacity to send out a few other of our brews to California and go from 3 to 7.
TFP: What is your view on the InBev AB news of late?
Sam: It is very surreal three best known brands in America are no longer American owned. In the long run it will have an effect on the craft beer sector, fewer distributors means fewer choices.
TFP: How has the hop and grain shortage affect DFH?
Sam: The cost of business has gone up. The real challenge is the barley for us. We contract three years out for hops. Our brews on average are 9% alc. It takes so much less barley to make a light lager. DFH uses about 75 lbs of barley per barrel, which is 2x as much as the average craft brewer. Our costs have gone up 60%, and we have only passed on 1 dollar to the distributors. It is very challenging. Just remember, a world class bottle of wine can cost $1,000, and a world class six pack can cost $10.00.
TFP:  What is your favorite DFH brew and favorite non DFH brew?
Sam: My favorite DFH always changes, depending what Im having for dinner, but right now Palo Santo Marron is a really special one, and its because we hit it out of the park. With the giant wood tanks, and how well the market received it.
I always point to Celebration. Its an epiphany beer for me. It was in my college years, when I was exposed to it. It was so intense compared to what was out there. It made me want to go out and educate and pummel the palette.
Past Brewmaster Spotlights:
Adam Avery – Avery Brewing
Steve Wagner – Stone Brewing
John Matson – Stoudt's Brewing
Matt Brynildson – Firestone Walker