Yazoo Hop Project IPA #22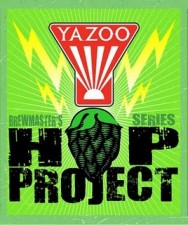 From Yazoo Brewing – This brew is an India Pale Ale by style, but that is where the similarity to most IPAs ends. Each consecutive batch of Hop Project is brewed with a different blend of spicy, aromatic hops, never using the same blend twice. It's a Hophead's dream come true! Project #22 was bottled 3rd week of October. We first-wort-hopped it with Ahtanum, then Galena at 30 minutes, Amarillo at 5 minutes, and dry-hopped with Zeus and Amarillo.
Yazoo Brewing – Yazoo Hop Project IPA #22 – 12 oz. bottle poured into a pint glass. From Steve in TN!
Appearance: Pours a cloudy amber with a frothy beige head.
Aroma: Citrusy aroma (lemon, lime, grapefruit) and a little bit of sweet malt.

Taste: A nice bitter hoppy bouquet going from citrusy, to herbal to bitter.  Finishes very floral.
Mouthfeel: Medium bodied and moderately carbonated.
Overall: For being 5 months old, this beer held up fairly well.  Nice bitterness and nice aroma.